Mummy Sleeping Bag For Sale.
Find Best Deals On Mummy Sleeping Bag - Best Price Guaranteed
If you are going to be camping in extremely cold temperatures, you must have a quality mummy sleeping bag. Stay warm and cozy inside a mummy sleeping bag, while the temperature will be below 20ºF and everything is frozen.
So-called because their design narrows at either end, making it look similar to an Egyptian mummy case. But this design is to help conserve heat.
Like other typical sleeping bags, it will feature a zipper to make it easy to enter and exit the bag. The bottom narrows and prevents heat loss through the feet. Their design keeps a camper covered from head to toe with just a tiny opening for the face.
A mummy sleeping bag will usually be made from water-resistant materials so that you will stay dry. Imagine how cold you would get if your sleeping bag got wet and that moisture soaked into the bag's interior. The stuffing in this sleeping bag will usually be quilted to stay in place and not settle in clumps.
Reasons To Buy A Mummy Sleeping Bag:
These mummy sleeping bags are truly unlike any of the sleeping bags you have ever experienced in the past. One of these has multiple benefits, especially if you enjoy camping and other outdoor activities.
It comes in handy when you are sleeping outside and starts to get cold out.
Mummy sleeping bags are lightweight and easy to carry around, so you will not have any problems transporting them from place to place.
The double-layer design of these sleeping bags makes it a lot easier for you to stay warm, even when it's freezing outside.
It avoids one of the main downfalls of regular sleeping bags, which is having spots in the fabric where it is too thin and lets in the cold.
Most of these sleeping bags are made of polyester material on the outside and inside lining.
Many people are starting to wonder where they can get mummy sleeping bags. You can sit in the comfort of your own home and look at all the different kinds of mummy sleeping bags there are to choose from. Although you will almost certainly be able to find them in most outdoor sporting goods stores, you should also check online for better deals and a more comprehensive selection.
Make sure you pick one out that will give you everything you need so you get as much out of it as possible.
What to Consider When Buying a Sleeping Bag
Before buying a sleeping bag, there are some points you need to consider. This will help you choose the right product according to your needs.
Shape: Choosing the right body shape is crucial to choosing the right product. There are regular sleeping bags and mummy sleeping bags, which monitor a person's body shape.
Sleeping dimensions: The correct dimensions should also be considered when buying a sleeping bag.
Brand: Choosing the right brand is one of the most important things you must take care of. There are many popular brands like ;
Temperature: The best sleeping bag is the one that has the most significant difference between the upper and lower temperature. For summers choose 32°F and above, for 3-season - 20 to 32°F & for winter +15° and lower.
The bag size: Sleeping bags are sized in small 5'6″, regular 6'0″, and logn 6'6″ lengths. While buying a mummy sleeping bag, choose one size bigger than your height.
How Mummy Sleeping Bags Are Maintained
Mummy sleeping bags typically last for 5 to 7 years, after which you should buy a new one. As with many other things, we must follow specific rules regarding sleeping bag care because otherwise, it loses its durability.
A sleeping bag should be hand-washed and suitable for seams and fabric.
Place the bag into a bowl filled with water and detergent and squeeze the cloth between your hands.
Use liquid detergent because washing powder may damage the fabric.
If you wash your sleeping bag in a washing machine, avoid spinning and use lower water temperatures.
A sleeping bag should be dried outdoors in the wind but in a place where there is no chance of direct sunlight.
When packing mummy sleeping bags, they should not be folded correctly since it makes the filling material uneven.
Grab the end, throw the bag in front of you, and you're done. The result may be a little bumpy, but it is better for sleeping bags and is also convenient to reach later.
Top 5 Must Have Mummy Sleeping Bags
The Suisse Sport Adventurer Sleeping Bag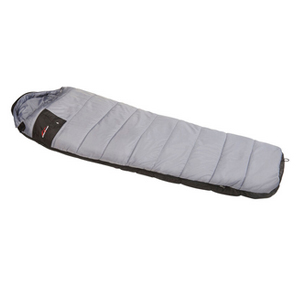 This mummy sleeping bag is good for long journeys when a few inches or pounds can make a big difference. The mummy bag is compact, compressing down to 10" x 15" inches when in the stuff sack. How "big" is that? Overall: 84" x 33" & Carry Weight: 4.3 lbs.

The construction materials add up to a 10°F for colder weather. Other features include Soft breathable liner, Anti-snag zipper & more.
The North Face Inferno -40F/-40C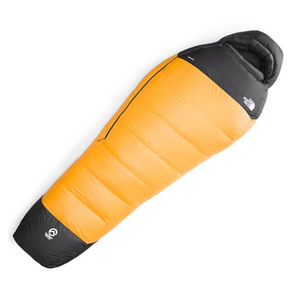 This comes with recycled exterior fabric that still offers top-level performance. Help to keep you comfortable in even the most extreme winter cold. COmes with Side Half Zipper, Anti-Compression Pads, Fitted Hood for more comfort & warmth. Waterproof and Breathable with 100% recycled main body material.
Eureka Grasshopper Kids Mummy Sleeping Bag
Rated to 30 degrees Fahrenheit, the Eureka Grasshopper Kids mummy sleeping bags are an excellent choice for car and cabin camping in temperate conditions. It has a polyester shell with a single-layer quilt construction and a polyester taffeta inner liner. Other features include a draft tube, inner stash pocket, and a two-way, self-repairing zipper.
Coleman Kids' 50 Degree Sleeping Bag - Pink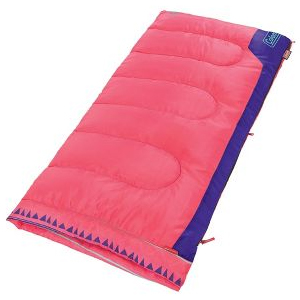 Coleman Kids' 50 Degree Sleeping Bag keeps you comfortable when it's 50 °F outside. The bag is specially designed for young campers with a height up to 5 ft. This bag has ThermoTech insulation that helps to keep you warm and comfortable. Comfort Cuff design across your face in softness.
Marmot Trestles 15°F Mummy Sleeping Bag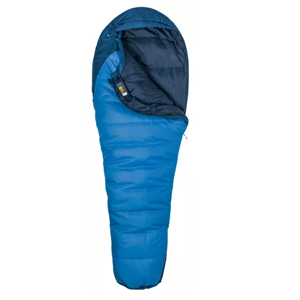 Marmot Trestles 15°F Mummy Sleeping Bag keeps you nice and warm on cold nights outdoors. A good choice for backpacking, trekking, and mountaineering with the features high loft SpiraFil® LT insulation in between a 70-denier polyester shell and smooth polyester lining. Lightweight, high loft SpiraFil LT insulation.
Where To Buy Mummy Sleeping Bags
Choosing the right sleeping bag can be pretty hard, can't it? Here at Sportsman Finder, we help you to find & compare top mummy sleeping bags for adults & kids. We have listed over 300 products from the industry's top sellers, including; BassPro, Cabelas, Sportsman's Warehouse, Sportsman's Guide & many more.
Sportsman Finder offers high-quality sleeping bags with the most excellent insulation and comfort for those cold nights, whether you need a sleeping bag for hunting, backpacking, or camping.
We carry a wide array of mummy sleeping bags that offer the best insulation and comfort. Our featured brands include Coleman, Wenzel, SwissGear, Columbia, and more!
Latest products for Mummy Bags
Cabelas Official Klymit KSB O XL Mummy Sleeping Bag for $329.99
Cabelas Official Cabela's Instinct Alaskan 0F Hybrid Sleeping Bag for $299.99
Bass Pro Shops Cabela's Instinct Alaskan 0°F Hybrid Sleeping Bag for $299.99
Cabelas Official Kelty Cosmic 600 Dridown 0° Mummy Sleeping Bag - Regular 6' for $249.99
Cabelas Official Klymit KSB 20 XL Mummy Sleeping Bag for $249.99
Bass Pro Shops Cabela's Instinct Scout 0°F Mummy Sleeping Bag - Long for $249.99
Sportsman's Guide Browning McKinley -30°F Oversized Sleeping Bag for $242.99
Bass Pro Shops Cabela's Instinct Scout 0°F Mummy Sleeping Bag for $239.99
Sportsman's Guide Browning Vortex 0°F Sleeping Bag for $224.99
Cabelas Official Browning Vortex 20° Hybrid Mummy Sleeping Bag for $199.99
Cabelas Official Alps Mountaineering Blaze -20F Mummy Sleeping Bag - XL for $199.99
Sportsman's Guide Browning McKinley 0°F Oversized Sleeping Bag for $197.99
Cabelas Official Kelty Cosmic 600 Dridown 20° Mummy Sleeping Bag for Ladies for $189.99
Cabelas Official Kelty Cosmic 600 Dridown 20° Mummy Sleeping Bag - Regular 6' for $179.99
Sportsman's Guide Browning® Denali Wide -30°F Sleeping Bag for $179.99
Cabelas Official Alps Mountaineering Aura 0 Mummy Sleeping Bag - Long for $169.99
Cabelas Official Alps Mountaineering Blaze 0° Mummy Sleeping Bag - XL for $159.99
Sportsman's Guide Browning Vortex 20°F Sleeping Bag for $152.99
Cabelas Official Alps Mountaineering Aura 0° Mummy Sleeping Bag - Regular for $149.99
Cabelas Official Browning Vortex 0° Hybrid Mummy Sleeping Bag for $149.99
Cabelas Official Alps Mountaineering Fusion 40 Zipper-Free Hybrid Mummy Sleeping Bag for $149.99
Foundry Outdoors Coleman Heated Sleeping Bag Onesource C002 for $148.62
Cabelas Official Alps Mountaineering Aura 20 Mummy Sleeping Bag - Long for $139.99
Cabelas Official Marmot Trestles 0° Mummy Sleeping Bag for $139.00
Bass Pro Shops Marmot Trestles 0° Mummy Sleeping Bag for $139.00
Cabelas Official Alps Mountaineering Blaze 20° Mummy Sleeping Bag - XL for $129.99
Bass Pro Shops The Ascend Whammy -20º Mummy Sleeping Bag - Fits to 6' for $129.99
Cabelas Official The Ascend Whammy -20 Mummy Sleeping Bag - Fits to 6' for $129.99
Cabelas Official Alps Mountaineering Aura 20° Mummy Sleeping Bag - Regular for $119.99
Sportsman's Guide Browning Reactor Series Mummy Sleeping Bag for $119.99
Sportsman's Guide ALPS Mountaineering Fusion 40°F Mummy-style Sleeping Bag for $116.99
Cabelas Official Kelty Tuck 20° Mummy Sleeping Bag - Long for $109.99
Cabelas Official Marmot Trestles 30 Mummy Sleeping Bag for $109.99
Cabelas Official Alps Mountaineering Aura 35° Mummy Sleeping Bag - Regular for $99.99
Cabelas Official Alps Mountaineering Blaze 20 Mummy Sleeping Bag - Short for $99.99
Cabelas Official Kelty Mistral 0 Mummy Sleeping Bag for $99.99
Cabelas Official Ascend Allure 0º Mummy Sleeping Bag for Ladies - Cadmium Green/Griffin for $99.99
Cabelas Official Marmot NanoWave 45 Mummy Sleeping Bag - Brick - Long for $99.99
Cabelas Official Kelty Tuck 20° Mummy Sleeping Bag - Regular for $99.99
Bass Pro Shops Kelty Tuck 20° Mummy Sleeping Bag for Ladies for $99.99
Bass Pro Shops Ascend Allure 0\u00ba Mummy Sleeping Bag for Ladies - Cadmium Green/Griffin for $99.99
Cabelas Official Kelty Mistral 0° Mummy Sleeping Bag - Long for $99.99
Cabelas Official Marmot NanoWave 45 Mummy Sleeping Bag - Brick - Regular for $89.99
Bass Pro Shops Kelty Mistral 20° Mummy Sleeping Bag - Blue - Long 6'6'' for $79.99
Cabelas Official Kelty Mistral 20° Mummy Sleeping Bag - Blue - Long 6'6' for $79.99
Cabelas Official Marmot NanoWave 55° Mummy Sleeping Bag - Steel - Long for $79.00
Bass Pro Shops Sea to Summit Thermolite Reactor Extreme Mummy Sleeping Bag Liner for $74.99
Bass Pro Shops Kelty Mistral 20° Mummy Sleeping Bag for $74.99
Cabelas Official Sea to Summit Thermolite Reactor Extreme Mummy Sleeping Bag Liner for $74.99
Cabelas Official Kelty Mistral 20 Mummy Sleeping Bag for $74.99