Fly Fishing Reels For Sale.
Choose Best Fly Reels From Top Sellers - Lowest Prices Listing Available.
The reels you use for fly fishing are distinctly different from your standard ones. If you usually do pole fishing, you may not be familiar with what fly fishing reels look like. If you have never fly-fished before, you probably do not know what they look like either. If you are considering taking up fly fishing and need to know what they look like and how to use them.
What Is A Fly Fishing Reel?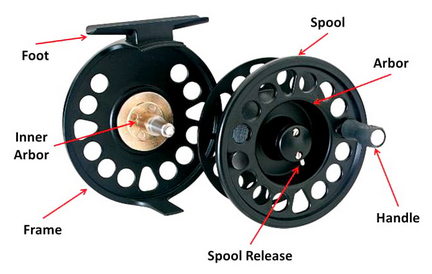 A Fly fishing reel looks much like the reels used in movie theaters. This is the best way to describe it, as they look almost identical aside from durability. The reels usually used in fly fishing must be highly durable to handle the weight of any heavy fish you may get on the line.
The essential function of the fly reel is to hold the line into place. Fly reels come in various shapes, materials & sizes. They are offered in aluminum, plastic, titanium, and other metal composites. The more expensive fly fishing reels typically come in aluminum or light composite materials.
The History Of Fishing Reels
Fishing is a trendy sport worldwide, and it can be rewarding and a brilliant experience to catch your supper while enjoying nature. Fishing with family or friends can be good fun and a great bonding experience for sons and fathers.
The fishing rod was invented first, followed by the reel, which has been around for hundreds of years. Reels date back to the 17th century, although the Chinese used a type of fishing reel in the 12th century.
Before the 18th century, a reel had the primary role of storing excess line, but reels have come a long way since those days, and there is a good choice on the market to suit various types of fishing, your budget, and ability. You can get reels using materials like brass and nickel today.
Fishing is fun and rewarding, and ensuring you have good equipment only makes it better!
Types Of Fly Fishing Reels.
There are three types of Fly Fishing Reels and what they can do for you!
Many anglers feel that fly fishing is as much an art form as a skill. To succeed, one needs extreme patience, perseverance, and the commitment to master their techniques. However, using the wrong fly fishing reels, even the most relaxed and focused angler can become frustrated and head for shore.
Here are the three main types of fly fishing reels and the advantages and disadvantages of each are.
Single Action Fly Reel
Regarding fly fishing reels, there is something to be said about reliability and durability. This is why single-action fly reels are the most common. The term single action refers to the 1:1 retrieve ratio; put, one turn of the reel equals one turn of the spool. Many fly fishermen will also choose single-action fly fishing reels for their simplicity. For those new to fly fishing and want to learn the skill without having to worry about their reel, this is an ideal choice.
Automatic Fly Reels
There are many situations where the idea of "automatic" implies convenience and efficiency. However, fly fishing is not one of them. Although automatic fly fishing reels are available, they are not popular and are considered by many serious anglers to be more trouble than they are worth. Unlike single and multiple fly reels, automatic reels retrieve the line using a trigger system, and the angler has no control over retrieval speed. They also contain many small parts and are not as durable as other reels. Even essential maintenance, such as changing spools, is long and frustrating.
How To Set up Fly Reels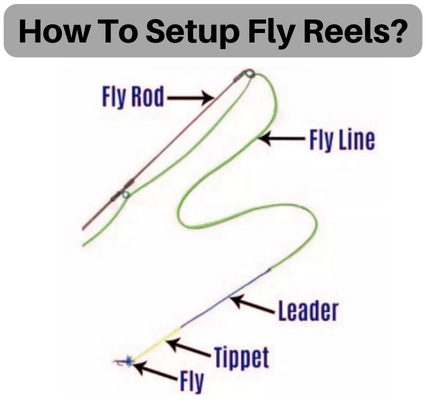 To set up your reels, you need to follow some steps. To set up the spool, you need to use the knot on the mandrel to attach the back of the spool to the spool of the spool. The arbor knot also works well for spinning and lure casting rigs.
The first step is to take the back of the reel and wrap the line completely around the shaft.
Then take the line's wrong side and the line's position and create a loop.
Take the end of the tag and go through this loop about four times.
Your image should be slightly larger than a silver dollar. Pull the loop tight to make a knot.
Take the reel's spool and pull it away from the safety line; the knot should slide off and tighten on the mandrel.
Just cut off the extra slogan.
Fly fishing needs a pretty complex setup, and all equipment in the setup is complicated. To become a master, you must challenge the technique, but first of all, you must have the rod, reel, line, and flies to drag in a catch.
From all equipment, the reel is the most costly and precisely complicated part of the fly reel setup. The essential function of a reel is to seize the line and support while working the fly line with a mechanism that continues the reel from consecutively to fast or spooling out surplus line. Reels can help to tire out a fish while flying by organizing the resistance on the line since fish pull on it.
Things To Know Before Buying Fishing Reels
Persons who fish with hook and line for pleasure. Maybe they have been using fly reels for years and must know all the fine points of Fly Fishing Reels. On the other hand, those who have never used it or bought one have a lot to learn. Factually heaps of different styles are out there. We need to be careful while choosing one because all are not equal.
Before purchasing a reel, ask yourself where you will be fishing and what you can afford. If you plan to be fishing in a stream or river, you will need something quite different than if you were to be fishing in the open sea in rough conditions.
Before thinking about moving on to something more advanced, it is good to try different types of reels to see what you feel comfortable with.
Fly reels usually have a disc brake and drag knob to put tension on the line. This allows the fly fisherman to work a larger fish onto the shore. This type of drag control is considered a central drag system. An adjustable drag setting is preferable for fishermen of all skill levels.
Another consideration when buying a fly reel is how large the arbor is. The size of the arbor affects how much fishing line you can retrieve with each spool turn. The larger the arbor is better because you can pull much more lines.
Top 7 Fly Fishing Reels Brands
Orvis Fly Fishing Reels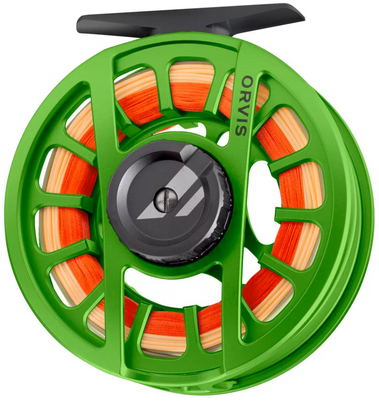 Image Credit:https://www.orvis.com There are various types of reels in the market to get confused easily, but Orvis fly fishing reels are one of the best options. This reel contains four-position drag systems, which allow you to regulate the incoming and outgoing tension of the reel.
Features are a classically styled, so far officially enhanced, four-position click-and-pawl drag system that is in sync internally and is intended to work in tandem with the palm of your hand on those scorching, screaming runs. It is made with a narrow spool for less line stacking on the retrieve and a bigger spool diameter for higher line retrieval rates. Easily adjustable for left-hand or right-hand retrieval. Black nickel finish.
Sage Fly Fishing Reels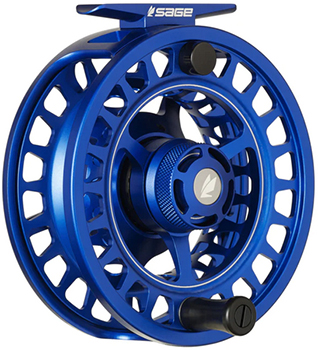 Image Credit:https://redsflyfishing.com While thinking of a reel, it must be the familiar sound of the Sage 2200 Fly Reel and enjoy the tale of a good-sized trout. Sage 2200 Series Fly Reel has reliable Sealed Carbon Drag technology with stainless steel clutch bearing design and ensures you have all of the fish-stopping power you require together with the smoothness needed to protect fine tippets.
One revolution-numbered drag knob allows you to set the drag accurately and quickly. Powder-coated machine die-cast aluminum frame with challenging tolerances presents an extra finished look than the other die-cast reels. This is lightweight. Different large concave spool surfaces give very speedy line pickup. Easily exchangeable from the right hand to the left hand.
Ross Fly Fishing Reels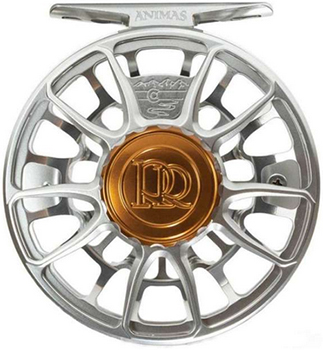 Image Credit:https://www.reelflyrod.com/ Ross CLA Fly Fishing Reel has taken the standard for good large arbor fly reels. The CLA series is integrated with a superior drag system which is extraordinarily smooth, heat resistant, and supplies incredible stopping power. Though CLA is offered at a very reasonable price, there are no options without noticing.
This series is fully machined out of a proprietary aluminum alloy, anodized for protection, and made to take the type of misuse related to a reel used daily of the season. For this reason, the CLA series is the most accepted reel for outfitters and guides who demand untiring performance in a reasonably priced package. CLA (sizes 4-7) Larger Components designed for Bigger Fish. The automatic design of all CLA (sizes 4-7) reels is unswerving throughout the series. Still, developments have been prepared to the four largest sizes to maintain their use in battling bigger fish.
Lamson Fly Fishing Reels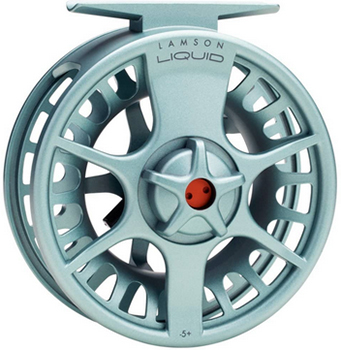 Now Litespeed is re-loaded. It is an iconic ultra-large arbor reel; Litespeed has been developed for a higher retrieve rate, better ergonomics, easier line management, and less mass.
The whole thing reached in Gen 3 LS has been pushed further. Thinner drag geometry has converted into a flatter spool surface for less knuckle dragging. An extra aggressive drag knob has been made so more aggressive.
Piscifun Fly Fishing Reels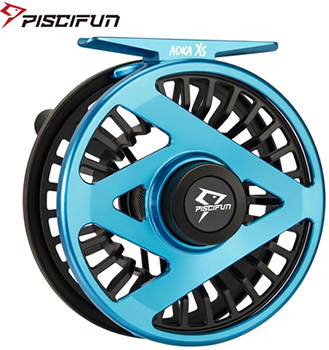 Image Credit:https://www.aliexpress.us/ While you are looking for a recommended product for a fishing reel, then this Piscifun Platte Fully Sealed Drag Large Piscifun Arbor Fly Fishing Reel with CNC-machined Aluminum Alloy Body is the best low-priced reel on the web we have found. The Piscifun Platte Fully Sealed Drag Large Arbor Fly Fishing Reel with CNC-machined Aluminum Alloy Body is prepared with many features that make it a unique product. Most of the sold products are not expensive and are highly wanted. More Details
Redington Fly Fishing Reels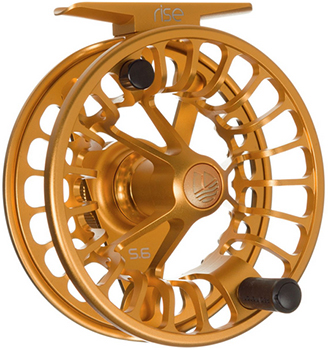 Redington's new behemoth fly fishing reels have the most powerful drag in its class. The behemoth reel has stunning aesthetics, which push the limits of fly reel design. The exclusive, UN-machinable, die-cast construction is attached with a strong, long-lasting, interlocking, large-arbor spool design that looks like a premium reel.
A super-heavy duty carbon fiber drag package conveys the family's extreme drag strength, consistency, and performance. Sized for your most wanted 5-weight trout rod and up to saltwater-ready, big-game sizes, the behemoth reels equally provide performance and affordability to beginner and expert anglers.
Kastking Fly Fishing Reels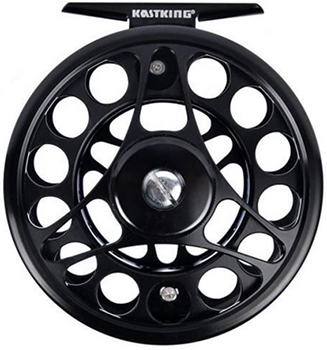 Image Credit:https://anglerslagoon.com/ KastKing Kobuk Fly Fishing Reel with Large Arbor, CNC machined T6061 Aluminum Alloy Body and Spool in Fly Reel Sizes 3/4, 5/6, 7/8, 9/10 – LightWeight yet Incredibly Strong has the best lowest price on the web we have found.
The KastKing Kobuk Fly Fishing Reel with Large Arbor, CNC machined T6061 Aluminum Alloy Body, and Spool in Fly Reel Sizes 3/4, 5/6, 7/8, 9/10 – LightWeight yet Incredibly Strong and outfitted with a large number of features which makes it unique. A good number of selling products cannot be expensive and are highly popular. More Details
Conclusion
We tried to help you to focus on your choices. All you have to do now is think about all the product features and reviews based on your needs, take a closer look, and then decide.
We offer a vast range of fly fishing reels, both new and antique, listed by sellers. So, whether you are looking for a top-quality Hardy fly fishing reel, a particular antique fly reel, or perhaps a bargain Okuma reel, our site offers a vast choice and outstanding value for money
Our listings are regularly updated, so please check back from time to time if you cannot see the particular fly fishing reel you are looking for.