Hunting Binoculars For Sale
Choose Best Binoculars For Hunting From Top Sellers
Hunting Binoculars is a very precious item for any hunter. These can also be used for either fishing or hiking. Hunting Binoculars are used for outdoor viewing, usually in rough terrain.
These pairs of binoculars are designed in such a way that it can stand in any type of odd temperature. It is made up of rubber armor with an o ring seal, nitrogen-purged housing which protects and makes it waterproof and fog proof.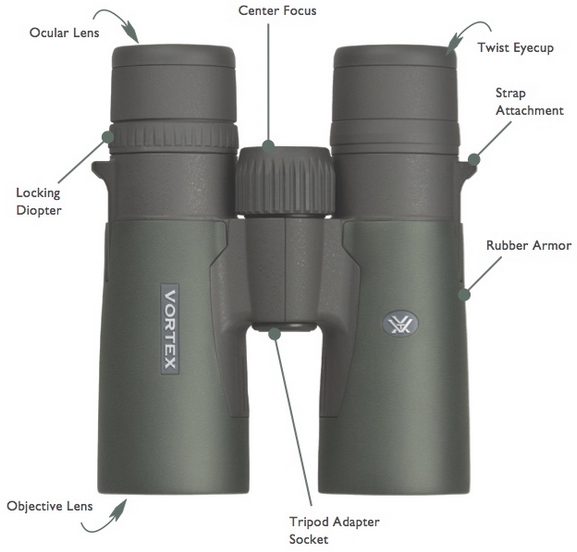 Image Credit: https://www.themeateater.com/
It is always recommended for any hunter to have a Bak-4 prism for a sharp, bright and a high quality image. For the purpose of protection and high image quality the best binocular for hunting optics should be fully multi-coated. It is always advisable while you are out for tracking to use Roof prism binoculars as they are more durable and sturdy.
While you are looking for outdoor optics, specially night vision hunting binoculars, compact binoculars or toughened waterproof binoculars are available in 8×42 and 10×42 magnification. The 8×42 magnification is a good bet for hunting during night or early morning or any time during the day or evening when the natural light is dim.
If you are out hunting in a forest or in a bushy area then 8x magnification would be the best as your vision will be substantially reduced. And on the contrary if you are in an open area where the natural light is better, then 10x magnification would be the best option, so that you can see quite far away.
Basics On Modern Binoculars
What do you need for your binoculars? You may be looking for the best hunting binoculars , best binoculars for birding, best binoculars for long distance or maybe to enjoy other sightseeing.
Magnification: This refers to the power of the binoculars. A pair of 7×35 binos are magnified 7 times. The lower the power, the wider an area you can see through your binoculars and the brighter the image. This is particularly important in low light situations such as dawn or dusk. Higher powered binoculars are useful for small distant objects (such as birds) in open landscapes with abundant light.
Aperture: This is the measurement of the lens furthest from your eye, or the "objective lens". The objective lens pulls in light from your surroundings similar to a camera lens. In a pair of 7x35mm binoculars, the aperture is 35mm. A larger aperture can compensate for the loss of light associated with a higher power, the trade-off is greater cost and weight.
Glasses: If you wear glasses at all times, do not choose a pair of binoculars without testing them with your glasses. Glasses increase the distance between the lens and your eye, changing the eye relief.
Focus: Poorly focused binoculars or binoculars that are out of alignment can cause dizziness, eyestrain, or severe eye-ache. To avoid this, be sure to calibrate your binoculars before you go birding or after anyone has used them.
Advantages Of Hunting Binoculars
Both eyes having magnification on target makes for a better image for the user.
Two hands and easy grips may make it easier for the user to hold the binoculars steady
Using binoculars gives you the advantage of scouting for your prey from afar, otherwise you won't be able to scout with your naked eye.
If you're an experienced hunter and you're hunting without binoculars, you're probably missing out on thousands of opportunities.
Binoculars help you locate footprints, also called trails. Depending on the information the test is giving you, you can track down your prey very quickly.
Binoculars easily outperform rifle scopes in terms of clarity and low-light visibility. If you're surprised that this is so, listen to it.
Binoculars are larger in size than a rifle scope, and therefore binoculars have a larger objective lens that allows more light inside.
It can calculate the distance to the object you are looking for. Typically, these rangefinder binoculars take advantage of new laser technology to make accurate and fast calculations of long distances.
The distance to an object can be calculated almost instantly when lasers travel at the speed of light.
It's pretty straightforward, don't shoot the wrong victim. This is a very delicate issue and can be prevented if you bother to look clearly before attempting to take a shot. This is one of the fundamental reasons why hunters should carry a pair of binoculars with them.
How to choose the best binoculars for hunting?
For an average common man it is not very easy to choose the best hunting binoculars. Every binoculars have various features and uses for hunting, boating, tracking, site seeing, bird watching, marine binoculars and navigating the natures beauty.
Binoculars have many specifications and at times it becomes very difficult to understand what would be the best pair of binoculars for him based upon his needs and specifications. One must keep in mind few of the salient features of an ideal binoculars at the time when you are buying.
Few tips for choosing best hunting binoculars
While making your choice for selecting the best hunting binoculars make sure that for what purpose you need them? Whether you are looking for hunting binoculars, tracking binoculars, marine binoculars for birding binoculars or compact or night vision binoculars or for fishing.
At the time of choosing your binoculars, lenses are the most important component. Make sure that the lenses have been optically grounded and are well coated for protection. A multi-coated lens is highly superior in quality and more durable and sturdy.
Ensure that the binoculars are made of a hard rubber shell good for rough and tough usage. Make sure to buy binoculars of high quality and good make.
Check for the perfect magnification you need based upon your requirement. If you are looking for hunting binoculars for viewing long distance then you should go for high powered binoculars and similarly if you are hunting in wooded areas where the light vision is low and dim then 8x would be the best magnification. Higher the magnification lower will be the image quality and lower the magnification higher will be the image quality.
Always ensure while making your selection for hunting binoculars that they are waterproof binoculars and there is anti fog coating on the lens. Make sure that the optics have a comfortable neck strap so that it is easy to carry.
The focal adjustment should be thoroughly checked at the time of making your selection. Make sure it moves swiftly and smoothly for better results.
At the time of selecting the best hunting binoculars, spend your precious time researching and make sure that you get exactly what you are looking for as that would make your hunting more enjoyable, exciting and adventures for the times to come.
Top 7 Best Hunting Binoculars Reviews
Bushnell Legend Ultra HD 10× 42mm Roof-Prism Binocular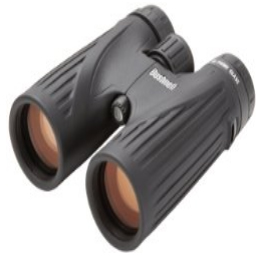 This is among the best binoculars for hunting that you will find in the market. It comes with magnification of 10× together with a 42mm objective lens. A lightweight magnesium chassis and a design of soft touch grips, a 100% fog proof and waterproof construction, an ultra-wide viewing field giving the eyes long relief that gives you ease in viewing moving animals, together with a locking diopter are some of the features that can't go unmentioned.

This binocular has exceptional optics that is designed with ED Prime Glass, a RainGuard HD water-repellent lens coating together with Band Coatings that are Ultra wide. It also includes a neck strap together with a soft case to make work easier for a hunter while in their hunting expeditions. It is unbelievable that in your hunting career you had not yet learned of this device that is incredibly essential and cheap as far as its specifications are concerned.
Bushnell H2O Waterproof/Fog proof Roof Prism Binocular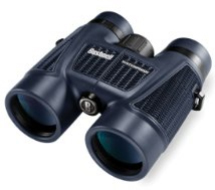 The Bushnell H2O Waterproof/Fog proof Roof Prism Binocular is an ultimate among the water viewing companions. It has been enhanced with soft texture grip so as to keep your hands comfortable even when under the most challenging conditions. It also has a very large center focus knob that makes adjustment easy as you try to focus the moving animals. In addition to this, it has twist-up eyecups, 10× magnification 42mm objective diameter and 17mm eye relief which is good enough to give you comfort while viewing moving animals even in water.
Bushnell Bear Grylls 10 x 42mm Roof Prism Waterproof/Fog proof Binoculars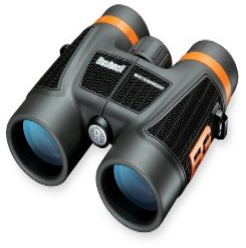 If you are planning to start hunting expeditions, Bushnell Bear Grylls 10 x 42mm Roof Prism Waterproof/Fog proof Binoculars is the device to beat. This is a device that features a large center-focus knob together with twist-up eyecups all for enhancing easy adjustments. It has a 10× magnification in addition to a 42mm objective diameter that is very ideal for observation of long-range animals. To even boost your focus further, the device comes with a close focus distance of 12-foot together with a 17mm eye relief. All these are meant to reduce stress by the hunter as they observe animals that are at a long range.
The Bushnell Bear Grylls 10 x 42mm Roof Prism Waterproof/Fog proof Binoculars also comes with BaK-4 prisms together with multi-coated optics that offer crisp clear images. The device has an O-ring seal & nitrogen purged to enhance fog free performance as it is also 100% waterproof. It also boasts of a limited lifetime warranty on some of the parts and mechanical problems. You are guaranteed of your lifetime hunting expedition as the device will be delivered to you with free shipping costs.
Nikon 7218 Action 10 X 50mm Binoculars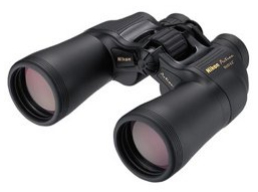 The Nikon 7218 Action 10 X 50mm Binoculars is a black pair of binoculars that comes with a multi coated spherical lens for enhancing clear viewing. This is done through the enhancement of a clear edge to edge viewing and is even further boosted by the exit pupils that are more than ample to help in superior light gathering.
It has also been designed with the Bak-4 high index prisms and has a 10× magnification together with an objective lens of 50mm all to bring the moving animals closer to you as you go on with your hunting expedition. The binoculars are black in color hence appealing to the eye and maintain its aesthetics for a long period of time.
For a cheap price you can get a used Nikon 7218 Action 10 X 50mm Binoculars while the new ones. This is a good discount facilitated by the manufacturers as it's incredible to get such a device at such a low cost. This is the best selling among the Nikon Action series and there is obviously a good reason behind these sales. With these binoculars, the hunter will be sure of getting a very close as well as very personal experience with the animals.
Nikon 7541 Monarch 3 – (10×42) Binocular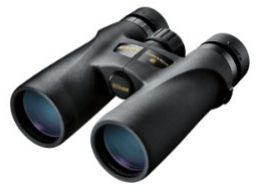 The Nikon 7541 Monarch 3 – 10x42 is the benchmark of hunting optics performance and has constantly been setting the standards needed for quality in hunting binoculars. It is designed with high reflected phase correction roof prisms that are coated together with fully multi-coated lenses and truly makes this device an unmatched one in the hunting and outdoor experiences.
The Nikon 7541 Monarch 3 – 10x42 Binocular has been designed to be able to maximize all the moments spent in the field. With its incredibly bright and high-resolution views starting from the very first rays of light to the last one, it has been designed for that lifetime of exciting and tough adventures.
If you are interested in catching the best in the field while you do your hunting, the Nikon 7541 Monarch 3 – 10x42 Binocular is absolutely the field benchmark of performance.
Nikon 7576 MONARCH5 8 x 42 Binocular (Black)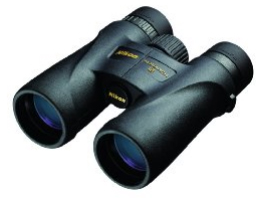 Are you planning to go for your first hunting expedition? Have you already sourced binoculars for this purpose? Is that binoculars the Nikon 7576 MONARCH5 8 x 42 Binocular (Black)? If not, then go back shopping for it as it is just the best hunting binoculars for your money in the market today.

This product boasts of many advantages that can't be found in most of the others. With more superior features than its predecessor yet an ounce lighter, it's even much easier to bring it with you during your adventure.
It is built with very extreme uses in mind as it is waterproof and waterproof as well as being designed with a rubber armored body for enhancing durability. It is among the only few binoculars that are equipped with very user friendly features like a smooth central focus knob, Turn and slide rubber eyecups as well as the flip down lens caps.
Vortex Optics Diamondback (10×42) Roof Prism Binocular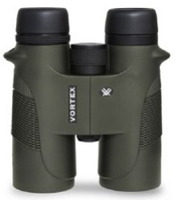 This is a high performance and very superior hunting binoculars with the best optics that you must find their way in your hand or around your neck as you go for your hunting expeditions. The device comes with a smooth focusing to give you the finest details.

Unlike most of the other binoculars, this is a unique one as it detects moving animals that are found in low light regions. In addition, it will be able to take clear images of those animals such as the rattlesnake that move at a breathtaking speed.

It comes with soft tapered eyecups, phase correction prisms that boost for a large field view. It also has fully multi-colored optics and is waterproof and fog proof. In addition to all these, the binoculars have rugged rubber armor for comfort and the best grip. Wow… this is an incredible binocular, for an incredible hunting experience and an incredible price!
Where to Shop for Hunting Binocular
There are so many hunters today who are not aware of the best places where they can buy their hunting binoculars from. For those who know where there are good hunting binoculars, some don't know where to get them at an economic price. Several options are present for you to utilize when you want to buy your desired hunting binoculars.
One of these best places to go to are the online stores that exclusively deal with hunting binoculars. It's up to you to decide on the authentic stores where you can buy the best hunting binoculars to fulfill your hunting requirements. Retailers who sell hunting binoculars are the most ideal places to buy cheap binoculars.
All in all, buying your binoculars online helps you to save time and money. Making online purchases has proven to be cheap in all aspects. If you are within places that are entitled to free shipping, you end up saving even more. Visit the official websites of those company brands you want to buy from or go to Sportsman Finder and find the best quality products from these sellers.
Benefits when Buying Hunting Binoculars From Sportsman Finder
At Sportsman Finder, we have a product listing of hunting binoculars from most of the binocular manufacturing & sellers companies.
We help to save your time to find in-stock deals from top sellers. Find & compare in-stock products from top sellers at one place.
Conclusion
It is time you took your hunting expeditions to another level. The only way to do this is by using the best hunting binoculars.