Best Crossbow Under $500 | Top 5 Reviews
The Ultimate Guide to the Best Crossbows Under $500: Top 5 Reviews
Get ready to enjoy this hunting season with an awesome crossbow for a maximum budget of $500! If you are an archer or hunting is your passion, getting the RIGHT CROSSBOW is super important, and we have made it easier to select one.
With many crossbows in the market, picking the right one for yourself can be tricky, especially when all the brands and local markets go big on technical jargon and price. If you are a hunter on a budget or enjoy target archery with a crossbow, then we carry a great list of the most suitable crossbows under 500. Below are the top 5 options for a super decent bow at a fairly affordable price.
When choosing your Crossbow, you first need to consider the size of your bow. It should complement your physical stature. Otherwise, all its brilliant specs will go to waste when you aren't able to use it! The different things that you need to concentrate on are its draw weight, speed, weight, accuracy, durability, cocking and safety mechanism, sights, bolts, strings, and design. All these things are important in improving efficiency and getting the desired outcome from your shooting.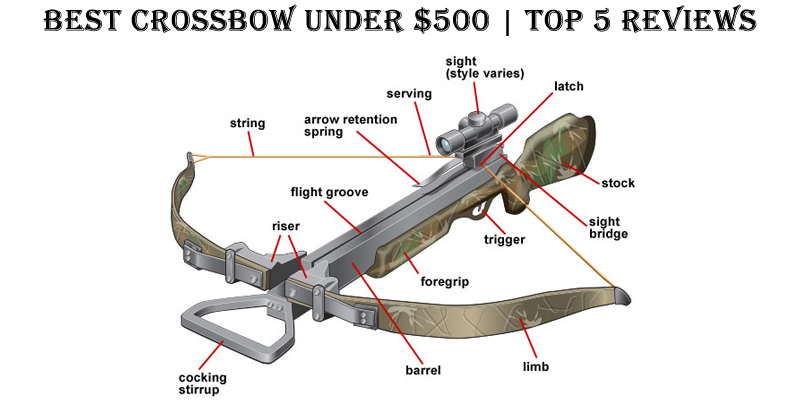 What you archers need is QUALITY! Your Crossbow should be long-lasting and durable enough to be used for multiple seasons.
Along with the technical quality and design, your crossbow provider's warranty and customer service are equally important. Buying a high-quality, professional bow from a company with horrible customer service is unnecessary. Trust me; it will do you more frustrating damage than good.
What could be the easiest way to instantly get information about all these factors? Right here! You are in luck, folks! In this article, I will review the top-selling, most stealthy, and most reliable crossbows on a budget under $500! I've put my research into a simple table below, but you can click on the product for a more detailed review. Take the guesswork out and minimize the risk for your next Crossbow!
Best Crossbow Under 500 Reviews 2023
Barnett Whitetail Hunter STR Crossbow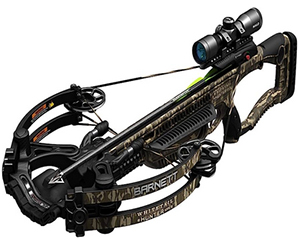 Barnett Whitetail Hunter STR is among the best $500 crossbows! It is lightweight, weighing about 6.6 pounds with a draw weight of 187 pounds at 375 FPS. This master bow comes with everything you need for a good hunting trip! Become real hunters this season with Whitetail Hunter STR… Whitetail Hunter STR features a single bolt assembly that makes it easy to assemble. It is highly powerful and accurate with its step-through riser. The knock sensors and anti-dry fire trigger system are pre-installed, making it safer for everyone. It is nicely scope equipped with string dampeners to cut off or reduce noise and vibrations.
Your package will also include other important accessories like a 4×32 millimeters multi-reticle illuminated scope that I love and adore, two 22 inches headhunter arrows, a lightweight quiver, a rope cocking device, and lube wax. The buyers are extremely happy and declare it a man's bow.
Absolute beauty! The performance is out of this world. It has a recoil like a low-powered rifle. This is a man's bow!
There is no major issue with the bow. It's just a bit hard to cock, and that's why it is unsuitable for people with smaller frames. But in a nutshell, this bow is phenomenal for its price and has the potential to become your best hunting buddy!
Pros
Multi-Reticle Illuminated scope
Lightweight and comfortable
Easy to use and assemble.
Noise dampeners for quiet shooting
Cons
Cocking the bow is a bit hard, especially for people with a smaller frame
Killer Instinct Burner 415 Crossbow Package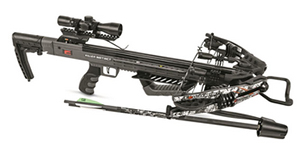 Killer Instinct Burner 415 goes after its name! It doesn't just kill. It burns through your target with lightning speed and a ferocious impact! It has a draw weight of 220 pounds at 415 FPS! It also comes with a custom-fit buttstock and an adjustable X-Lok. The enhanced Micro-Lite aluminum barrel and 3.5-pound KillerTech trigger make it the most accurate and consistent bow. So, you can expect a shot-after-shot deadbeat accuracy from this thing.
Burner 415 has accessories like LUMIX 4 x 32 IR-W Scope, rope cocker, string suppressors to make it quiet and vibration-free, 3-Bolt Quiver, 3 HYPERLite Bolts with Field Trips and rail lube. It's a complete package with easy maneuverability and great comfort. You can enjoy hunting with Burner 415 as it is as soft as a mouse, as fast as lightning, and as strong as iron!
The best thing that I adore about Burner 415 is its warranty! It's a lifetime warranty and even covers the standard, non-wearable parts of the Crossbow to the original registered owner.
It's crazy fast, lightweight, flat shooting, and accurate.
Pros
Easy assembly with a great instruction manual
Deadly fast and accurate
Great customer service
Cons
Difficult cocking mechanism for small people
Barnett TS380 Crossbow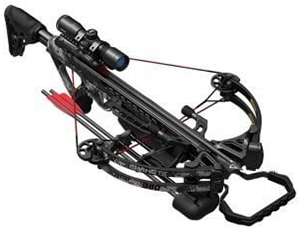 Barnett TS380 is a perfect tactical crossbow with excellent speed, accuracy, durability, and value. It will surely give you the best hunting experience with superior sturdiness and competitiveness. Relatively comfortable to use due to single screw assembly. You can hold the arrows securely without them getting in the way of the flight. It consists of an anti-dry fire Trigger technology that minimizes friction. The pass-through Foregrip is rubberized, and the flight track is made of CNC-machined aluminum, which makes the Crossbow lightweight and allows the projectile to move smoothly.
TS380 measures 36.5 inches long, 16.75 inches in width when uncocked, and 13.25 inches cocked. This Crossbow delivers an excellent performance, an amazing kinetic energy output of 122 ft. lbs. High speed shooting 380-grain arrows at 380 fps per second. This best Crossbow under 500 has a rope crank-cocking device and a soft Lok noise-dampening feature that reduces the vibration to increase the accuracy of this Crossbow and makes the Crossbow shoot silently. The adjustable length-of-pull buttstock makes it comfortable for almost any shooter to shoulder. You can install quivers by setting up the pica-tinny rail itself.
Barnett TS380 image quality is excellent. It consists of a 4x32mm Multi-Reticle scope that is waterproof and shock-resistant. The multi-coated optics reduce the glare and reflection so that you can see the details quickly.
Light to carry, easy to cock, precise, simple to use, and practical. It is also upgradable with lots of Barnett accessories.
Pros
Easily adjustable.
Single-bolt assembly.
Noise dampening feature.
Cons
Quivers are usually complicated to install.
PSE ARCHERY Fang HD Crossbow Package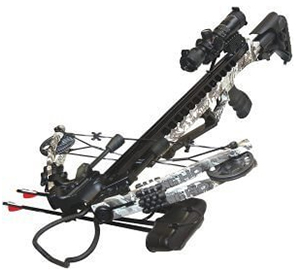 PSE ARCHERY Fang HD is considered a real hunter's helper. It helps the hunter to hold it comfortably and trigger the shot with a low sound. One of the best crossbows under $500. PSE (Precision Shooting Equipment) Archery equipment has always offered highly featured and exceptionally capable crossbows at budget-friendly prices. Fang HD continues the PSE legacy. It shoots arrows up to a speed of 405 FPS. Delivers powerful performance with a power stroke of 14.5 inches. It measures 18 inches when uncocked and 14 inches when cocked. It has 205 lbs. draw weight and 35.5 inches overall length.
Fang HD is incredibly accurate due to HDV 425 1.5-5×32 variable zoom illuminated reticle scope that uses reverse cam technology to increase power and speed, allowing you to shoot and aim more easily. This Crossbow has an anti-dry Trigger system & auto safety features to prevent accidents. PSE Archery Fang HD gives you all the power and precision to do your job silently with dampers attached to its limbs. It is easily cocked and de-cocked without firing an arrow, making it extremely safe.
Considering all the perks this Crossbow offers, it is a good deal. Fang HD is compact and easy to maneuver. It has an impressive set of extra features you will love.
This Crossbow package includes a 5-arrow Quiver, three 22-carbon bolts with bullet points, and an adjustable buttstock.
Pros
Anti-dry Trigger system & auto safety.
Shoots an arrow up to a speed of 450 fps.
It comes with a variable zoom illuminated reticle scope.
Easy to handle.
The price is very low according to the qualities included.
Cons
Heavier than most crossbows under this category.
Centerpoint Sniper 370 Crossbow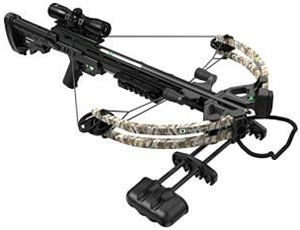 Sniper 370 is not just an average bow. This compound crossbow has won the title of Outdoor Life Magazine's 2016 "Great Buy." The beautiful weapon, tons of power, whisper-quiet.This beauty has a draw weight of 185 pounds and a rail system with a shoot-through riser providing 370 FPS. So, you are looking for the big hunt with this best Crossbow under $500!

Centerpoint Sniper 370 Crossbow features a fully adjustable stock and Foregrip, making handling this bow easy and comfortable. You can get any pull length or choose any shooting style you want- Sniper 370 won't disappoint you. Its quad limbs come with precision-machined cams systems that deliver more power. If you are into serious hunts and need a quiet bow, rest assured because this bow is designed with integrated string suppressors to minimize noise and vibration. With Sniper 370, your box will include three 20-inch carbon arrows, a parallel quiver, a 4×32 mm scope, and a rope cocker.
This bow weighs around 7.7 pounds and can be heavy, but the power and accuracy you get with this bow are worth the weight. It is made of compressed fiberglass for toughness and durability. Its safety and anti-dry fire trigger only add to its beauty.
Although there are some complaints about Sniper 370 being noisy or having low-quality scope, this bow offers way more than your buck! So, you can always use the extra money to use noise dampeners or pair them with other better scopes, if needed. There is always room for upgrading, but in a nutshell, this bow will last for seasons and give you an amazing hunting time!
Pros
Deadly powerful
It can be used ambidextrously
Shoots accurately up to 50 yards
Cons
The illuminated scope is not included
Noisy/rattly adjustable stock
TenPoint Wicked Ridge Rampage 360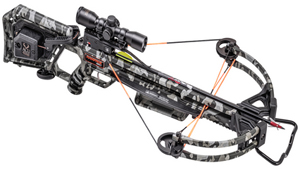 TenPoint Wicked Ridge Rampage 360 is your premier entry-level Crossbow with 150 pounds draw weight at 360 FPS. It has a built-in cocking device that reduces the draw weight by 50%! This bow is no joke and can be used easily by people with large or small frames and less muscle power. Rampage 360 is renowned for its deadbeat accuracy and dependability. It is lightweight at about 6 pounds. It has got one bolt assembly that makes it super easy to assemble.
Rampage 360 also features TenPoint 3x multi-line scope, 3 Aluminum arrows, 3-arrow instant detach quiver, Gordon glass limbs, and a T4 trigger for your safety and in preventing dry fires. If you are new at hunting or want to try archery, then this bow is the one for you. You can easily take down a deer or an elk with this beast. It definitely won't disappoint you.
The Ranger X2 is an excellent deal for the price. It is also upgradable with lots of TenPoint and Wicked Ridge accessories.
Your average bow can easily be upgraded professionally by adding good-quality accessories. It depends on your skill level and convenience to turn it into a custom-made bow. It is one of the best-selling bows by TenPoint for teens, women, and men alike, especially if they are a beginner.
Pros
Suitable for beginner teens, women, and men
Accurate and durable
Best used for hunting and target competitions
Cons
Arrows are not included
Some accessories need to be upgraded
Killer Instinct Ripper 425 Crossbow Package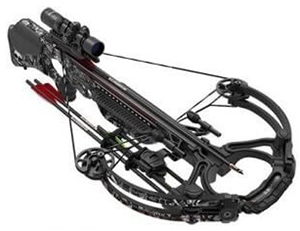 Killer Instinct Ripper is a deadly accurate and lightweight Crossbow. It is built of aluminum shooting rail, CNC machined rise, and effective crisp trigger pull for long-range accuracy. It is 35 to 36.5 inches long, making it a longer-sized Crossbow.

This Ripper 425 weighs about 6.9 pounds, 15 power strokes, 14.25 when cocked and 17.75 when uncocked Axle-to-Axle, 210 Lbs draw weight, Lumix 4×32 IR-E premium glass etched scope, and capable speed of 425 FPS. It also features a precision aluminum barrel and can generate 149-foot pounds of kinetic energy. The Scope is remarkable. It is nitrogen purged which makes it water and shockproof.
You will have no issues bringing down big games, which implies that this Crossbow is extraordinarily flexible. Suppose you are the sort of hunter that never agrees to a similar prey. In that case, you will discover this crossbow bundle to be suited to your abilities, particularly given its affordable price.
Pros
Well-constructed.
Sling silencer.
Nitrogen purged
Rubber shock absorbers
Built of aluminum shooting rail.
Accurate up to 80 yards.
String dampeners.
Comes with carbon arrows.
One of the fast crossbows.
Provided with accessories such as Lumix 4×32 IR-W Scope, 3 Bolts, String suppressors, and a 5-Bolt Quiver.
Cons
The trouble with putting the crossbow together.
Lack of detail in the manual.
Auto-safety trigger.
Wicked Ridge Invader G3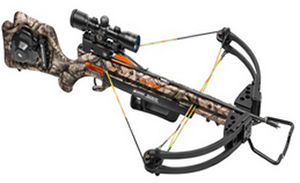 Wicked Ridge Invader G3 is the safest accurate, strong American-built Crossbow offering the best scope, i.e., 3X Multi-Line scope. This best Crossbow under 500 has a semi-skeletal design and magnesium risers to reduce weight. Invaders' Foregrip gives a shooter a solid grip to minimize the risk of fingers in the string path. It comes with a draw cocking mechanism and an instant-detach 3-Arrow Quiver.
The invader is 37.75″ long, 22.6″ wide, and weighs just 6.6 lbs. The draw weight is 165 lbs, and the power stroke is 13.5". Its T2 trigger has a sharp 3.5 lb. release and is mostly found on expensive crossbows, integrated with ACU-52 that cuts the draw weight by 50% and a camo stock. The Dry Fire Inhibitor ensures the arrow isn't fired when not in place.
Pros
Redundant safety systems prevent misfires and dry fires.
Oversized reinforced nylon safety wings.
Improved flush limb bolts.
Highly accurate.
Magnesium riser.
Cons
Doesn't come with a dampener.
No suppression system.
Lack of detail in the manual.
It's not illuminated.
Shorter warranty period.
Slightly heavier than similar bows.
Barnett Ghost 420 Revenant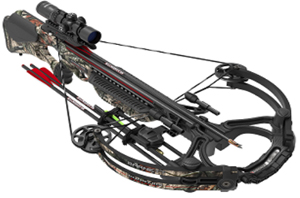 Part of the Carbonlite arrangement from Barnett was promoted as the organization's exceptional setup. The Ghost 420 is the sort of Crossbow you will have the option to pay attention to. The greatest speed it can reach is 420 fps, sufficient to reduce most games you can discover in forested areas or elsewhere. At a draw weight of 185 lbs, it is clear what weapon you manage. The wide scope of adornments accompanying this best $500 crossbow makes it stand apart much more.
The trigger framework comes in rifle-style and will forestall dry shooting to dispose of the number of bombed shots, which may be excessively recognizable to individuals new to utilizing a crossbow. You will get numerous additional items persuading you that this model is a decent alternative for bow chasing. For example, the string dampeners will diminish the clamor made by positioning the string and delivering your bolts, allowing you to remain undetected.
A quiver is included that you can mount as an afterthought for simple admittance to your bolts when out in the forested areas.
Pros
A brilliant trigger framework guarantees you won't need to manage dry discharge and untimely shots.
The enlightened degree accompanies variable amplification to guarantee that you can rapidly adjust to different situations.
The fast and exact crossbow issues most to any tracker out there.
Cons
Collecting the crossbow is, by all accounts, somewhat of an overwhelming undertaking, as per a few analysts.
Barnett Raptor FX3 Crossbow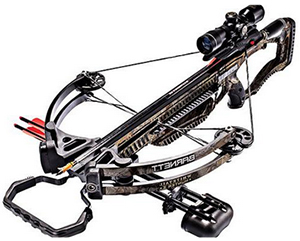 Raptor FX3 is the best outdoor 500 crossbow for beginners. Raptor FX3 is designed in a stylish camo. It consists of a CCD port that allows the setup of a crank cocking device, an anti-dry fire system, and an adjustable stock. The Raptor FX3 shoots at the speed of 350 FPS with 150 lbs draw weight, ensuring a power stroke of 12.5 and kinetic energy of 103 feet.

FX3 has 16. 125″ axle to axle, 18 inches width and 34.25″ length, and 6. 4 lbs. total weight. Raptor comprises a 4×32 scope, cocking rope device, and a lightweight quiver.
Pros
Drawing weight is manageable.
Low draw weight.
Well priced.
It has the ability to fit a crank cocking device.
Light in weight.
Cons
Loud
Doesn't come with a dampener.
Need a cocking device because of being narrow.
No suppression system.
Buying Guide
When you look at the market, you notice a lot of options. But when picking which one to buy, you must remember certain things. You must know the draw weight, speed, and kinetic energy a crossbow delivers, as these factors determine how the arrow will penetrate your target. The higher the draw weight, the higher will be the kinetic energy. This means you'll be able to hit big shots.
FAQs
What Is The Best Crossbow For Under $500?
The best Crossbow is Barnett Whitetail Hunter II under $500 because it has great qualities such as Adf, which eliminates dry fires, is easy to see, knocks sensors, etc. The Barnett Whitetail Hunter II is best because of its accessories, such as rope, cocking device, and lubrication wax. The shoot arrow speed is 350 feet per second with dimensions of 34.25 inches in length and 18.25 inches in width.
What Is The Best Barnett Crossbow?
The best Barnett crossbow is the Barnett Hyper Ghost 425 because it has a speed of 425 feet per second with 152 foot-pounds of kinetic energy, illuminated 1.5-5×32 scope, and dimensions of 36.25 inches length and 20.375 inches width. The deal packs include three 22 inches of hyper-flight arrows, a rope cocking sled, and lube wax.
Best Hunting Crossbow Under $500?
Wicked ridge ranger X2 is the best hunting crossbow. With lightweight, balanced, relaxed to handle, accurate, and easy to sight in an out-of-the-box, high-quality American-made Crossbow. Therefore, the best hunting crossbow is under $500.
What Is The Best Ten-Point Crossbow?
Light-weighted.
Compact and safe.
Fast and furious speed.
Having an attractive package deal.
Illuminated ScopeScope.
Powerful.
Best draw weight.
Easy to handle.
Having a guarantee card.
Noise suppression.
Best-Rated Crossbow For The Price Of $500?
Whitetail Hunter II is equipped with a trigger tech precise trigger control mechanism that uses frictionless release technology, an open-space stock for weight reduction to attach the crank cocking tool, and is manufactured from stainless steel that makes the Crossbow withstand when exposed to the elements. It shoots arrows at a speed of 350 feet per second with a weight of 150 pounds and kinetic energy of 103 feet pounds.
Best Crossbow For Deer Hunting Under 500?
Centerpoint sniper elite whisper crossbow is best for small game hunting, deer and Bear hunting, and target hunting. It also has red-green illumination with many settings to play around with. The dimensions of this best $500 crossbow for deer hunting are 35×18 with a draw weight is 185 lbs and 370 fps speed.
Best Compact Crossbow Under $500?
Killer instinct furious pro 9.5 400 fps crossbow pro package with IR scope, bolts, and accessory package. The pro-series of killer instinct can target at a maximum speed of 400 fps with 139-ft-lb kinetic energy and a draw weight of 185 lb. Its shooting arrows can kill any prey due to its compatible design. This Crossbow has 7lbs. weight, and the 4×32 mm illuminated scope provides maximum strictness during shooting.
Quietest Crossbow For The Price Of $500?
The outstanding feature of the Centerpoint Sniper Elite Whisper Crossbow is noise suppression through loud noise, which may distract the prey, so it has a quality to help you avoid this problem. As your mark could be away due to loud noise, this one is built-in with noise suppression strings to fire so much noiseless attack.
Best Crossbow Package Under 500?
Wicked Invader G3 is the safest American-built Crossbow under $500, offering the best 3X multi-line scope. This Crossbow has a semi-skeletal design and magnesium risers to reduce weight.
Personal Recommendation
My recommendation is Barnett's Whitetail Hunter STR Crossbow. It is a great beginner bow with lots of potential and is suitable for people of all physical statues. You cannot get a better deal at this price, trust me! But if you are macho with tall height, you can go for heavier bows with heavier draw weights and speed.
Editors Choice
Undoubtedly, all the above crossbows are some of the best-selling pieces, especially at a highly affordable price! All the bows have their perks and downsides. At this price, even if there are some low-quality issues with scope, bolts, or other accessories, this is not a biggie. You can always use the additional cash to upgrade the bow, and still, you'll find yourself at the good end of the deal! So relax, read the best crossbow under 500 thoroughly, and make the best buying decision to change your hunting forever!