AR15 Scope : Enhance Your AR-15 With The Right Optic Scope.
For an AR15, you need a low magnification scope, red dot optics, or any option with a magnification around the 1x – 5x range. These products provide the best mix of quick target acquisition and accuracy over long distances.
As explained throughout this article, these scopes work best for the AR15.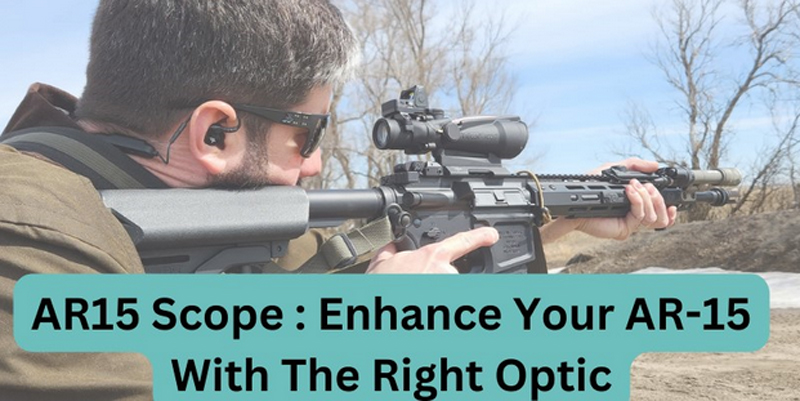 Special attention should be given to mounting hardware, considering the various setups available. You also want to remember the available accessories, including backup iron sights.
This article will present the entire spectrum of optics available for your AR15.
What Makes The Best Scope For An AR15
Red dots are fairly easy. Scopes are more complicated. So, you may wonder what it takes for a range to work with an AR15. Any power would work fine. But a scope with more moderate magnification would be better.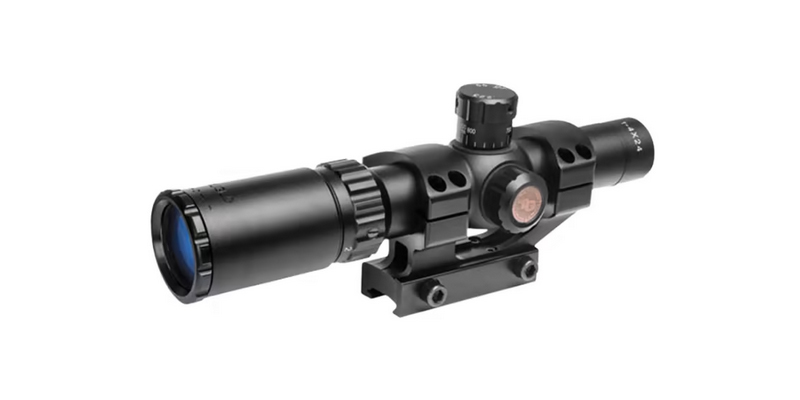 While the round is considered effective to about 500 yards, bullet drop at that range is nearly 10 feet. The AR15 could do better over long distances. You only need magnification that provides accuracy up to 300 yards.
At the same time, you don't want to compromise your short-range shooting. This is where the AR15 excels. With more magnification, shooting under 50 yards can be very challenging. Even finding your target at those ranges can be tough.
Therefore, the best magnification is probably around 3x – 5x. You could have a special reason for your rifle that would benefit from higher magnification. However, more modest magnifications are best if you use your AR15 in a tactical capacity or for home defense.
What size scope for ar15?
The best size scope for an AR-15 depends on how you plan to use the rifle. A red dot or holographic sight is a good option if you primarily use it for close-range shooting, such as self-defense or home defense.
These sights are lightweight and easy to use, allowing you to acquire targets at close range quickly.
If you plan to use your AR-15 for medium- to long-range shooting, such as hunting or competition, then a magnified scope is better. Magnified scopes allow you to clearly see your target and make more precise shots at longer distances.
The most common magnification ranges for AR-15 scopes are:
Important Things to Consider Before Buying a Best AR 15 Scope
Some important things that you must consider before buying an ideal AR 15 scope are as follows :
Magnification: Choose an appropriate magnification level based on your shooting distance and intended use. Higher magnification is ideal for long-range shooting, while lower magnification is better for close-quarters or fast target acquisition.
Quality Construction: Always opt out for an AR 15 scope that has got an ideal construction in order to enjoy it for a long time.
Lens: Always try to check out the lens of the scope that you are about to buy and make sure that it is scratch and dust resistant to cope up with different environmental conditions easily.
Compact Size: Compact size is preferred over long ones as they can provide the best shooting accuracy while you are hunting down your target. Therefore, try to look out for an AR 15 scope with a small size to avoid any type of disturbance and hindrance while shooting or hunting.
Eye Relief: A good scope also provides proper eye relief with high recoiling cartridges as well. In this way, your eye and forehead remain safe from any reaction while you pull the trigger. Buy an AR 15 scope that provides ideal eye relief with other features.
Reticle Type: Select a reticle style that suits your shooting style and needs. Common options include duplex, mil-dot, BDC (Bullet Drop Compensator), and illuminated reticles for low-light conditions.
Best Scope for AR15 - Comparison Table 2023
Let's discuss these scopes one by one in detail.
Vortex Optics Razor HD Gen II 1-6×24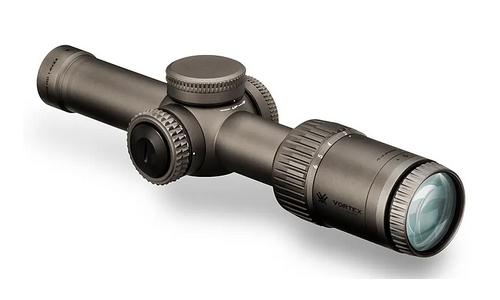 Vortex is famous for engineering practical scopes that provide serious value for the money. The company's Razor HD Gen II riflescope is one of their most popular models. This fan-favorite has a loyal following among 3 Gun competitors, tactical shooters, law enforcement officers, and serious hunters.
Is It Worth It?
One of the most versatile optics on our list, the Vortex Razor HD Gen II works well for 3 Gun, hog and varmint hunting, and tactical shooting applications. Here is what you can expect from this popular optic.
Sturdy construction.
Scratch-resistant lens coatings.
Hard-anodized exterior.
Fogproof, waterproof, shockproof performance.
HD glass.
Fully multi-coated lenses with XR anti-reflective coatings.
Capped low-profile turrets.
Zero reset function.
Fast-focus eyepiece.
Illuminated SFP reticle.
Trijicon ACOG 4×32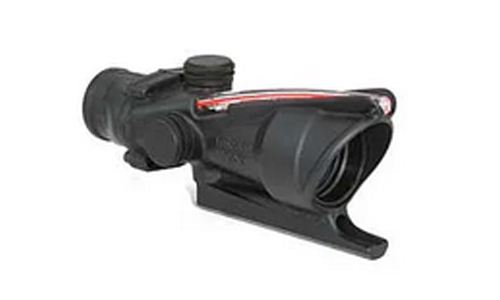 Trijicon's Advanced Combat Optical Gunsight, better known as the ACOG, has proven its value in combat zones around the globe. The US Marine Corps uses this battle-ready optic on their Squad DMRs (designated marksman rifle). DMRs are equipped to fill the gap between short-range infantry rifles and long-range sniper rifles.
Is It Worth It?
Although the ACOG comes with a hefty price tag, the investment is worth it for shooters who are serious about their optics. These scopes are extremely tough, hold their zero like there's no tomorrow, and will never leave you with a dead battery.
Here are the ACOG's main features.
Virtually indestructible.
Waterproof, fogproof, shockproof.
Generous field of view.
Allows for both-eyes-open shooting.
Battery-free illumination.
Night vision compatible.
Steiner T5Xi 3-15×50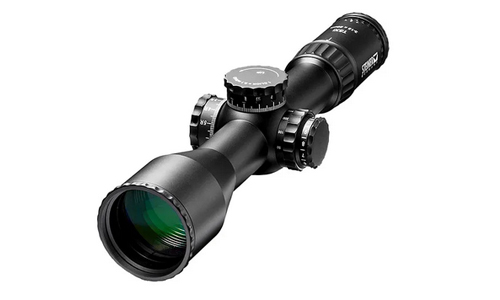 If you want to flex some long-range muscle, an AR chambered for a hotrod cartridge like .224 Valkyrie or 6.5 Grendel and the Steiner T5Xi will certainly help you do it.

Designed specifically for tactical long-range shooting, the T5Xi features an exclusive Special Competition Reticle (SCR). The detailed illuminated reticle is etched on the first focal plane.
Although the T5Xi was designed for the target range, it is built tough enough for backcountry hunting.
Is It Worth It?
If you want to ping targets at longer ranges, this is the perfect optic for the job. It's pricey, but most decent long-range optics come with hefty price tags.
Here are the main features that make the T5Xi worth the investment.
Durable construction.
Short, compact design.
Fogproof and waterproof.
Generous magnification.
Detailed illuminated glass-etched FFP reticle.
Resettable zero stop.
Low profile turrets with rotation indicator.
Side parallax adjustment.
Leupold VX-Freedom 3-9×40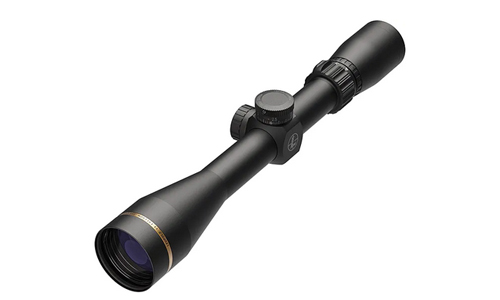 Nothing says you can't run a traditional deer hunting scope on an AR-15. The Leupold VX-Freedom is the quintessential riflescope for whitetails, and it works surprisingly well on a modern sporting rifle.

This affordable scope has a practical 3-9x magnification range and impressive optical clarity for such an affordably priced scope.
Is It Worth It?
If you use your AR-15 for hunting whitetails, this affordable optic works quite well. Its main features include:
Durable construction.
Fogproof and waterproof.
Scratch resistance lenses.
Practical magnification range.
Excellent clarity.
Twilight Max Light Management System.
Non-illuminated SFP reticle.
EOTech Model 512 Holographic Sight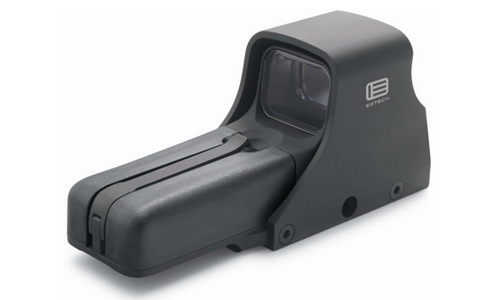 Few optics pair better with an AR-15 than an EOTech holo sight. The company's sights are the gold standard for holographic optics, and the Model 512 is their most popular offering.

The Model 512 is EOTech's basic, bare-bones holo sight. However, that doesn't mean it doesn't have plenty to offer. The optic features twenty daylight brightness settings, a user-friendly 65 MOA Ring and 1 MOA Dot reticle. It also provides unlimited eye relief.
Is It Worth It?
A holo sight and an AR-15 go together like peanut butter and jelly, and an EOTech is the cream of the crop. Here are the optic's major features.
Works even if the glass is shattered or partially obscured by dirt or mud.
A versatile circle dot reticle is useful for CQB and medium-range engagements.
Virtually indestructible.
Twenty brightness settings.
Runs on common AA batteries.
Up to 1,000 hours of use.
Auto shut-off feature.
Bushnell TRS-25 Trophy Series Red Dot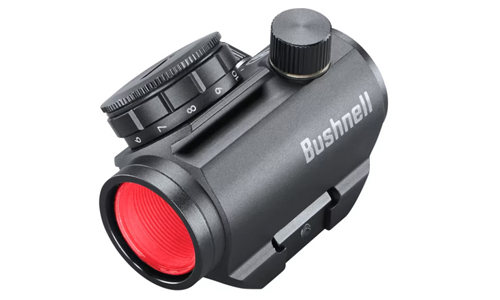 Unfortunately, not everyone has a ton of cash to drop on an optic for their AR-15. Thankfully, there are options like the TRS-25 Trophy Series Red Dot from Bushnell. Perfect for shooters on a shoestring budget, the TRS-25 comes in at under $100.

Despite the economic price tag, the Bushnell TRS-25 is strongly built. It is nitrogen-purged and o-ring sealed, for solid waterproof, fogproof, shockproof performance.
Is It Worth It?
The Bushnell TRS-25 Trophy Series red dot is perfect for budget-conscious shooters. It is also well-suited for deer hunting, especially when jumping deer in thick woods.
Here's what sets this red dot apart from the competition.
Affordable price tag.
Waterproof, fogproof, shockproof.
Multi-coated optics.
Amber-Bright lens coatings.
Eleven brightness settings.
Target turrets for quick windage and elevation adjustments.
Magpul Industries MBUS Flip-Up Sight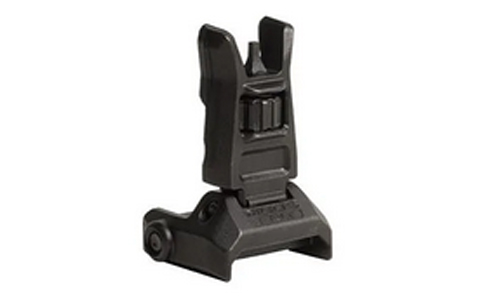 No article on AR-15 optics would be complete without at least a brief discussion of backup iron sights (BUIS). Having a backup plan is critical to shooting success.

Magpul's Gen 2 BUIS are arguably the best in the industry. They are made from a sturdy polymer resin, which makes them lightweight yet incredibly durable.
Is It Worth It?
If your primary optic ever fails in the field, you'll understand just how important backup iron sights are, and Magpul's are some of the best on the market. These sights are specifically engineered for AR-15 and M-16 weapons.
Made from impact-resistant polymer.
Spring-loaded, flip-up design.
Conclusion
Choosing the right AR15 scope is essential for enhancing your rifle's performance. Many different types of scopes are available, so it's important to consider your specific needs and budget when deciding.
If you're looking for a scope that will allow you to engage targets at long distances, you'll need to choose a scope with a high magnification. However, select a scope with a lower magnification if you're mainly interested in using your AR-15 for close-quarters combat.
Once you've considered these factors, you can choose the right AR-15 scope for your needs. With the right scope, you'll be able to shoot more accurately and consistently, regardless of the distance.