Vortex Rifle Scopes: 7 Picks For Deer Hunting Under $500.
Hunting deer is a lifestyle and passion for most deer hunters in the US. The sport has been practiced for ages. Hunters now use a rifle mounted with a scope.
The adventure becomes more thrilling when deer hunters make the kill. However, it can be easier said than done because it takes skills, practice, and mastery of deer hunting to succeed in the game.
Aside from these things, you'll need the right scope for this activity because it can improve shot precision and sight picture for a better shot.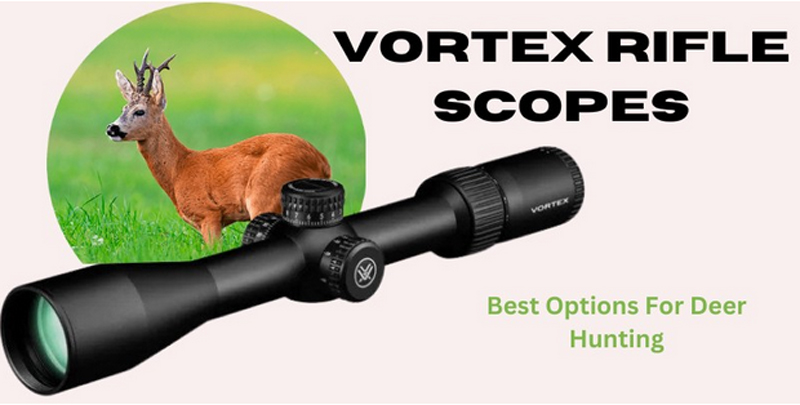 That's something Vortex scopes are known for.
But what's a good Vortex scope for hunting deer?
We'll highlight the top seven picks in this article and help you with a buying guide.
Before moving to the other details, take a quick look at the best Vortex rifle scopes for deer hunting:
| | | | | |
| --- | --- | --- | --- | --- |
| Image | Title | Rating | Price |   |
| | Vortex Optics Crossfire II SFP Riflescopes | | $169 | Shop Now! |
| | Vortex Strikefire II Red Dot Sight | | $199.99 | Shop Now! |
| | Vortex Strike Eagle 1x Rifle Scope | | $399.99 - $499.99 | Shop Now! |
| | Vortex Optics Viper HD 15-45×65 Straight Spotting Scope | | $699.99 | Shop Now! |
| | Vortex Viper 6.5-20x 44mm Rifle Scope | | $269.99 | Shop Now! |
| | Vortex Optics Diamondback 1.75-5×32 SFP Riflescope | | $229.99 | Shop Now! |
| | Vortex Optics Strike Eagle 1-6×24 SFP Riflescope | | $249.49 | Shop Now! |
What About Vortex Optics?
Vortex Optics has been in the business of rifle scopes since 1986. You've probably heard or even used Vortex scopes whether you're a marksman, a hunter, or a security officer.
Vortex Optics, a US company, has been known for engineering the best scopes for particular applications and advancing sighting device technologies. It manufactures quality scopes for deer hunting, long-range shooting, varmint hunting, tactical shooting, and so much more.
The company also manufactures binoculars and law enforcement equipment.
Their scopes, like the best vortex scope for deer hunting, are available in different price points and have different features.
They've also introduced a series of scopes like the Vortex Optics Diamondback, Strike Eagle, Viper, Vortex Crossfire, and Razor HD Gen scopes.
Vortex scopes are reliable and known in competitive shooting and hunting for their quality glass, reasonable prices, and top features.
That's why Vortex Optics can be compared to manufacturers selling top-end and expensive scopes for hunting and long-range targeting.
Vortex Rifle Scopes: What Makes Them Great?
Vortex Rifle Scopes' popularity can be attributed to its combination of quality, durability, innovation, affordability, and commitment to customer satisfaction.
Quality and Performance: Vortex scopes are built to withstand varying weather conditions and rugged environments, ensuring consistent performance even in challenging situations.
Durability and Warranty: Vortex scopes are built with durability in mind. Vortex's VIP (Very Important Promise) Warranty provides a lifetime guarantee, regardless of whether the damage is accidental or intentional.
Wide Range of Models: Vortex offers a diverse range of rifle scopes, catering to different shooting disciplines, preferences, and budgets.
Innovative Features: Vortex often incorporates innovative features into their rifle scopes, such as illuminated reticles, adjustable turrets, and quick-focus eyepieces.
Affordability: While Vortex offers premium-quality scopes at various price points, making their products accessible to many users.
7 Best Vortex Scope For Deer Hunting: In-depth Review
Vortex Optics Crossfire II SFP Riflescopes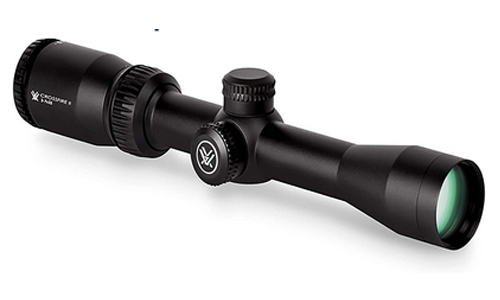 The Vortex Optics Crossfire II is the best overall for hunters. The long-range and hunting rifle scope is packed with solid features that users will appreciate.

This scope for deer hunting belongs to the Vortex line of affordable and quality scopes. It is functional and easy to operate. Even beginners wouldn't have a hard time using it.

This Vortex Crossfire II 2-7x32 scope is a high-quality optic, which features a magnification range from two to seven times and an objective lens diameter of 32 mm.
The long-range Vortex Optics Crossfire II for hunting game is known for helping users land precise shots within the 1000-yard range.
Nevertheless, the deer rifle scope is functional for common hunting applications and can be used seamlessly by newbie shooters.
Vortex Optics Crossfire II features the second focal plane bullet drop compensating reticle (dead hold BDC reticle), which utilizes hash marks or holdover points along the crosshair's bottom line.
The durability of the scope is also unquestionable. Its tube is made with aircraft-grade aluminum, which is both lightweight and durable. Thus, this sighting device is dependable for consistent long-term performance.
This model also has a long eye relief and a forgiving eye box. In addition, it has windage and elevation turrets, which can be easily reset and are finger adjustable.
However, it is not for users looking for higher magnification ranges. Overall, the Vortex Crossfire II scope is a reliable and rugged rifle scope for hunting game. You have to check it out for an easy-to-operate and precise scope for your adventures.
Pros
Capped reset turrets
SFP rifle scope
Superior glass and fog proof performance
Ultra forgiving eye box and long eye relief
Precision at longer ranges
Cons
Not for people looking for higher magnification ranges
Vortex Optics Strikefire II Red Dot Sight (Best Red Dot Sight)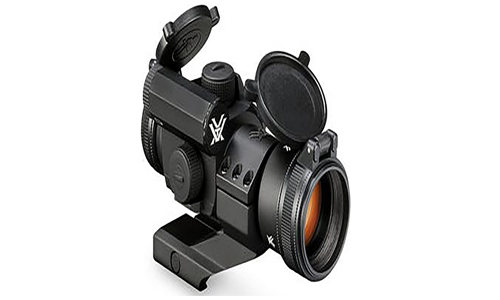 The Strikefire II is another Vortex scope model to consider for whitetail deer long-range hunting. It's easy to use, especially for beginners who have just started with their outdoor and sports adventures, because it can offer simplistic aiming.

The scope, available at a reasonable price, is an excellent hunting scope for people looking for a quality red dot sight.
This model is designed for straightforward use in that it has rear-facing controls for easy operation and adjustment of the 10 red dot intensity levels.
This scope, available at a very reasonable price, also offers durability in that it can perform no matter the weather.
The lightweight material is still durable because the scope can offer a shockproof performance even when used with heavy recoiling firearms. It can deal with impact, bumps, drops, and shocks.
This Strikefire II red dot sight is also designed with 4 MOA red or green dot reticle, which is very useful in situations like quick transitions.
In addition, the Vortex red dot sight features windage and elevation adjustment dials that have audible clicks.
In every click, it will move your point of impact ½ inch of MOA. This value corresponds to ½ inch at 100 yards, for instance. It is also easy to adjust the windage and elevation settings, so using it is a cinch.
But overall, the Vortex Optics StrikeFire II scope is a reliable scope for both maximum view field and quick target acquisition. It is versatile and reliable and suits all shooters and hunters looking for a sleek and simple red dot sight.
Pros
Lightweight and durable aluminum material
Fog proof and waterproof performance
Beginner-friendly operation
Audible clicks on windage and elevation
Unlimited eye relief
Cons
Buttons can be hard to push initially
Vortex Optics Strike Eagle SFP Rifle Scopes (BEST ILLUMINATED SHORT RANGE SCOPE)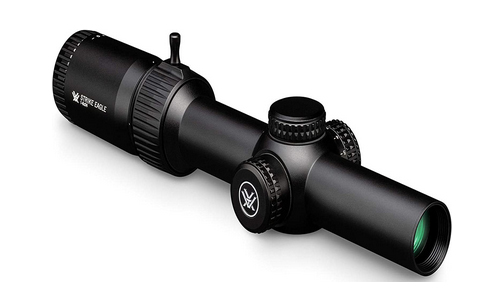 When searching for the best rifle scope with illuminated reticles for short range shooting and hunting, Vortex Optics Strike Eagle scope is an excellent option for its versatility and speed, which are vital for us looking to engage our targets quickly.

The Vortex scope for deer hunting has magnification from 1-6x, offering versatility for different applications, including tactical shooting, hunting, and short to middle-range shooting.
This model is one of the deer hunting scopes, which is a cheaper scope than Vortex Razor HD scopes. The middle range optics offer plenty of remarkable features, like capped turrets, BDC marking, and illuminated reticle, as well as a raised adjustment fin on the scope's magnification adjustment ring.
The BDC reticle is quite accurate when tested at 250 yards, but results can change based on the rifle and ammo used. That's why you might have to test a couple of times to determine how this reticle will work in harmony with your firearm.
The scope model also has very clear and quality glass. When used at the lowest power, don't experience any distortion. It's clear from edge to edge. However, if you turn up the power to the max of 6x, you'll see some distortion.
The scope covers are already installed, but you can remove them if you want to.
Overall, this Strike Eagle scope is a useful and general-purpose rifle scope with outstanding features but available at an affordable price. It is a great beginner rifle scope for deer hunting, too.
Pros
Speed for quick target acquisition
BDC reticle for more precise shots
Short to middle range performance
Simple operation
Aircraft grade aluminum construction
Cons
Can be hard to find mount for it
Vortex Optics Viper HD 15-45×65 Straight Spotting Scope – Best Vortex Spotting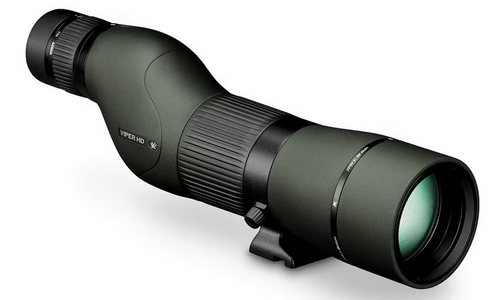 Here's a dependable partner for your hunting rifle or long-range shooting tactical firearm. Although this sighting device is a standalone unit you can stow in your bag, its magnification and spotting capabilities make it the choice of professional marksmen and their spotter buddies.

This spotting scope features an HD optical system that delivers exceptionally vivid images through the objectives. No hunter should go out into the woods to land a kill shot on a deer without this device because the scene you see through the lens is as realistic as the world itself.
It doesn't matter if the deer is 2,000 yards away or only 500 yards out. This spotting scope produces distortion-free images in vibrant colors. You'll get an astonishing field of view of 136.5 feet at 15x magnification and 67.8 feet at the maximum 45x. Maintaining situational awareness is never a problem.
The lenses also feature coatings to make them free of dirt, scratches, and oil. The rubber armor hugging the scope, giving it a surprisingly warm feel and boosting its all-terrain, all-weather performance.
However, it's not an ideal solution for hunters who need an all-in-one device that facilitates faster spotting, targeting, and shooting.
Pros
Superior optical performance
Fully adjustable elements for precise and comfortable spotting
Excellent illumination
Dual mounting options
Robust, bring-anywhere construction
Cons
A little hefty
Vortex Viper 6.5-20x 44mm Rifle Scope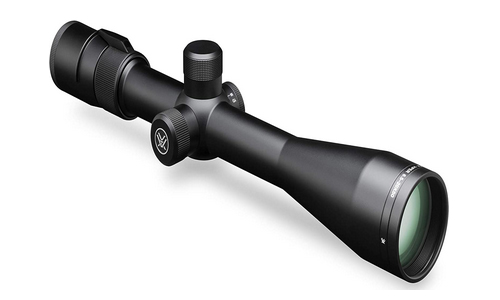 Viper returns with one of the best second focal plane rifle scopes for deer hunting money could buy. And if you're worried this scope will break your bank, you'd be in for a delightful surprise.

Although this Viper doesn't have the HD's magnification prowess, its 6.5x to 20x range is more than sufficient to land perfect shots after dead-center shots from a hundred to a thousand yards.
Most hunters would call this riflescope's magnification middle range. It has nearly all the striking features of the Viper HD in a rifle-mountable design.
Like the Viper HD, this stealthy riflescope has an uber-quick-focusing eyepiece. Zooming in and out of its magnifying capabilities is like controlling the diaphragms of an electron microscope. It's that precise and effortless.
It might not have the Viper HD's rubber cladding, but this riflescope's construction is as robust as any other Vortex Optics product you trust. Take it anywhere, and this scope will never fail you. Bagging the prize is a done deal.
With so many admirable qualities, this Vortex riflescope is the best in its class. A rugged exterior protects its cutting-edge lens technology to ensure precision shots every time.
Pros
Superb color fidelity and resolution
Snappy turrets
Rapid focusing eyepiece
Unquestionable build quality
Effortless zeroing and resetting
Cons
A bit bulky
Vortex Optics Diamondback 1.75-5×32 SFP Riflescope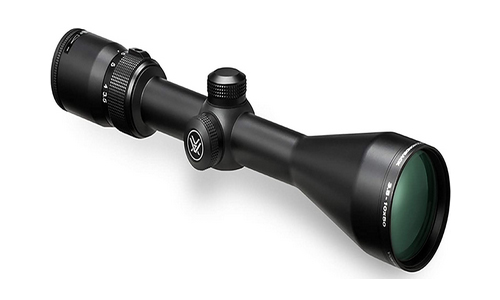 Although the Vortex Diamondback is a budget-conscious hunter's favorite, it would be a gross injustice to consider this riflescope inferior to other sighting devices that bear the badge.

Some hunters don't want to invest in high-quality riflescopes when occasionally hunting for deer and similar animals. But this scope has excellent quality at a price that many seasoned hunters consider a steal.
Hunting with this scope mounted on your rifle is like having a second pair of eyes looking out into the distance.
The picture quality the riflescope delivers is as clear and vivid as any other Vortex system I know to every deer hunter. Putting the deer in the crosshairs while maintaining a sweeping view of the field is a breeze with this device.
Aiding newbies in aiming their shots is the dead hold BDC reticle of this quality scope. Hash marks on the article's horizontal crosshair make it easier for beginner hunters to estimate the distance to the target.
Beginners will never have issues with target tracking and the scope holding its zero. This riflescope retains its arbitrary settings like a vise grip latching onto an object. And when it comes to resetting the zero, you won't have concerns, too.
The Vortex Diamondback appeals to serious hunters who require a dependable sighting device for their favorite rifles. It's also an excellent option for beginners who might find adjusting for holdovers trickier than usual.
Pros
Excellent optical quality
Easy-to-use reticle
Dependable tracking and repeatability
Superb craftsmanship
Affordable
Cons
Glare can be a deal-breaker for some hunters
Vortex Optics Strike Eagle 1-6×24 SFP Riflescope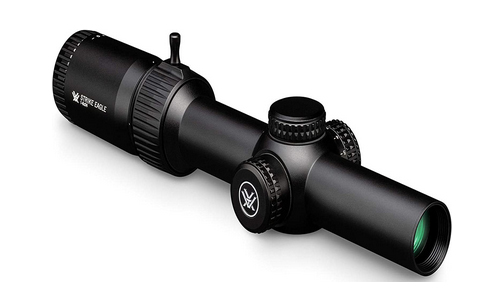 A great deer hunting scope should also be versatile enough to be effective in tactical situations and close-quarter combat. And this Vortex scope fits the bill like a glove.

As a riflescope with low power variable optics (LPVO) and a true 1x magnification, this product is one of Vortex's best-sellers. Tacticians and hunters like the Strike Eagle's versatile design, allowing them to hunt prey on Sundays and neutralize bad guys on other days.
Its maximum magnification would allow for shooting long range, its 5x power is enough to land a kill shot from 650 yards. That is impressive, considering riflescopes with higher magnifications incapable of ensuring precision shots at closer distances.
This riflescope doesn't have the Viper's ultra-low dispersion XR lens coating, which is quite a bummer.
Nevertheless, its glass remains a cut above competitors, ensuring clear images even in low light conditions.
Some folks hate the BDC3 reticle, especially in close-quarter combat situations, because of the vertical hash mark and dotted lines from the red center dot.
This Vortex riflescope is the thread-in throw lever for adjusting the magnification level.
This scope has all the makings of a reliable Vortex scope with a pocket-friendly price. Of course, you're free to pick others.
Pros
Superb glass quality for the price
Multipurpose design
Convenient throw-lever
Easy-to-use reticle
Surprisingly well-built
Cons
Eye box could be more forgiving
Final Thoughts
Your mule deer hunting adventure will be pleasant and rewarding with the right tools for the job. That's why you need a good sighting device for clear and crisp images and better shot placement.
Shooting long range and hunting white tail or mule deer requires a reliable, repeatable, and rugged Vortex rifle scope that possesses excellent capabilities like more light gathering capabilities, waterproofing ability, better sight picture, and tough performance.
But we do recognize that choosing among the different Vortex scopes isn't that easy if you're unfamiliar with the most important features to look for. This guide should be able to help you with that to pick the best scope for deer hunting.
Don't forget to check our previous post about Leupold Rifle Scopes, another good brand for rifle scopes.
Good luck and happy hunting!