Coolina Knives - What You Need To Know Before Buying
Coolina Knives Review & Buying Guide
We all need a great knife that can be helpful for kitchen, hunting & survival. Coolina knives are always an investment that is worth the money. The brand is known as one of the market's most reliable and competent kitchen tools.
Whether you are dealing with meat or vegetables, these carbon steel knives are equally skillful in the kitchen and outdoors.
This article will share the Coolina knives reviews to know if it is worth buying for your kitchen or outdoors.
So keep reading………………
A Brief History of Coolina Knives.
In 2017, Coolina was founded by two close friends, Sergey and Ilya, with a passion for handmade knives and cooking! They decided to develop a brand to fulfill customer services with good quality products.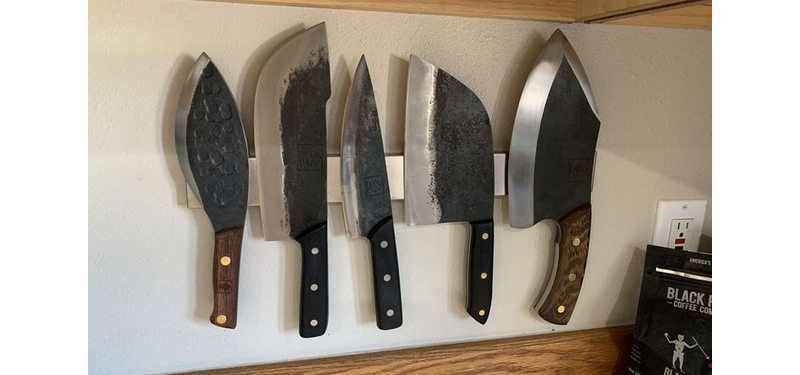 Over five years, Coolina has sold over 150,000 knives worldwide, and there's no stopping them. The best thing about this brand is that they offer guaranteed service before, during, and after every purchase.
Coolina knives are hand-forged in China and imported to the US market, where the target market is. Choosing a different manufacturing location could be a strategy to cut costs.
With its headquarters in the US, UK, Canada, and Australia, Coolina has become a global brand for best quality knives.
What Are Coolina Knives?
Coolina knives are a new range of knives with a wide range of unconventional shapes and designs. The knives are famous for being known for the best quality & best functionality.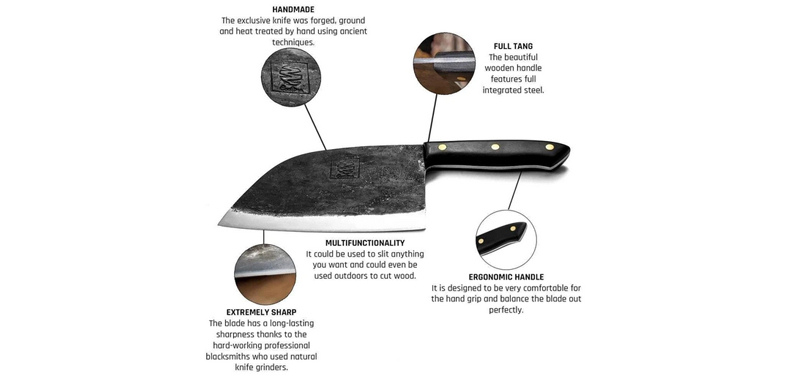 Image Credit: https://coolinastoreau. com
A cleaver knife for meat cutting, bone cutting, fish cutting, and much more. With this blade, you'll get clean cuts because it has a hand-sharpened edge and has been skillfully heat-treated and honed. The cleaver's strong, the ergonomic grip makes it easy to use for long periods. As a camping and kitchen knife, it is safe and comfortable for both men and women.
Reasons to have Coolina knives:
Great range of kitchen, butcher, and camping knives
Made from carbon and manganese steel
Hand-forged using traditional techniques
Equipped with ergonomic handles
Offers knife accessories
Ships internationally
Specifications Of Coolina Knives
Perfect weight & balance. Designed for prolonged use.
100% high carbon steel
Razor sharp: B-12 Degrees cutting edge
Comfortable & ergonomic handle
Full tang design
Specific strategy.
Flawless craftsmanship.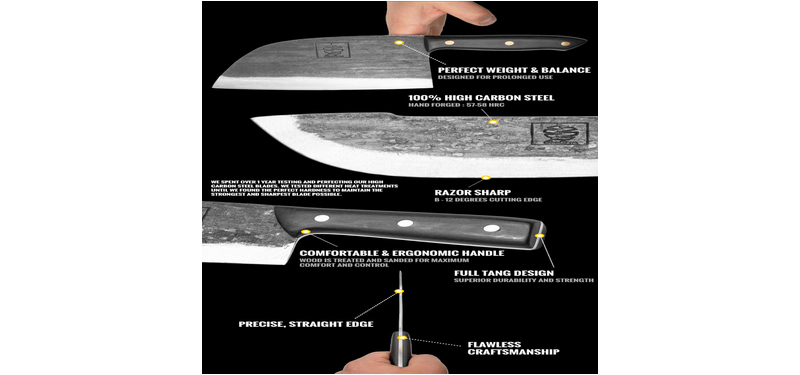 Image Credit: https://buy.coolinastore. com
What Is The Purpose Of A Coolina Knife?
Coolina knives are designed to handle any task you throw at them. The brand's primary purpose is to offer the best quality knives for the kitchen & outdoors. Best for Chopping, Slicing, and Cutting.
Each Coolina knife was designed for a specific purpose. So, before you buy Coolina knives, be clear about your goal. Some Coolina knives are excellent multitaskers, while others are primarily utilized for deboning meat. It's critical to use a suitable knife for the job at hand.
A good option for boning.
For cutting bones
Good knives for Slicing
Kitchen or Outdoor Cooking
If you buy a quality knife and know how to protect it, you can have it for a lifetime.
Pros & Cons Of Coolina Knives
Coolina knives are a type of knife that is designed to cut through food with ease. They are made from high-quality materials and come in various shapes and sizes. There are many advantages of Coolina knives.
Advantages
These knives will make your kitchen work faster, easier, and better.
An Indoor outdoor cooking utensil that makes quick work of poultry, beef, pork, fish, wild game, and even fruits and vegetables. The Carbon Steel blade stays sharp for a long time compared with stainless steel and is super easy to sharpen.
This multi-purpose knife can replace virtually any knife in your kitchen. Cut the backbone of your turkey, steak, frozen meat, or fresh fruits and vegetables. The best choice for kitchen and outdoor cooking.
Sharp High-Carbon Steel. Highly versatile and invaluable for any kitchen or restaurant. Its size and heft make it ideal for easy chopping and slicing through meat and bone.
At affordable prices & the knife is easy to hold and handle.
Disadvantages
The knife must have better edge definition & more uniform finish on the blade body.
Where To Buy Coolina Knives.
If you want to buy Coolina knives online, you can use many online places. At Sportsman Finder, we have in-stock deals of all types of knives from industry top sellers. We have in-stock deals for knives from industry top sellers, including; BassPro Shops, Cabelas, Sportsman's Guide, and Sportsman's Warehouse. Bucknives, BladeHQ & many more popular sellers.
The company only sells its knives online, which means getting one is highly convenient. To browse the collection and get yours, head over to the Coolina Store website.
FAQ
Does Coolina ship internationally?
Coolina ships worldwide; just make sure you use the website according to your location. It has different versions for the US, UK, Canada, and Australia.
Although your browser should take you to the correct version of the site for your country, you can browse different versions according to your location.
What is Coolina's Shipping Policy?
Shipping costs will depend from order to order; you'll see all your options when you checkout. As per Coolina's shipping policy, produce can be shipped within 24 hours. Orders placed after 11:00 AM PST will be shipped the next business day.
What is Coolina's Return Policy?
Coolina offers a return policy for all their knives. However, there are some basic guidelines for making withdrawals, so keep the following in mind:
You have 30 days to return.
Make sure the item must be unused in the original packaging.
How to Contact Coolina
Phone: 1(754)219-2124
Email: info@coolinastore.com
Coolina Promotions & Discounts
Coolina always offers great deals & discounts almost every week. Right now, they have an offer to get 4 KNIVES FOR THE PRICE OF 2 · USE CODE: 2FREE.
Coolina Knives Reviews: Are They Worth Buy
Final Thoughts
Overall, Coolina knives are a good choice for kitchen & outdoor. The knives are also sold at great prices for unique experiences in your kitchen & outdoor applications. If you've ever owned one of these knives, or are about to get one, let me know your thoughts in the comments below.