Best Fillet Knife: Review Of Top 10 Fillet Knife To Buy
What is the best fillet knife for me?" or "Which one is the perfect fillet knife?" – Many people come across this same dilemma of choosing the best fillet knife from the thousands and thousands of knives available in the markets.
We have just the solution for you. Read on to know about choosing the best fillet knife.
We have put together a list that will enable you, the average consumer, to choose the right fillet knife for your task or based on your specific needs.
We have aided you by separating the majority of fillet knives on the market into a list that you can analyze. Take your time and find the right fillet knife for outdoor sportsperson needs.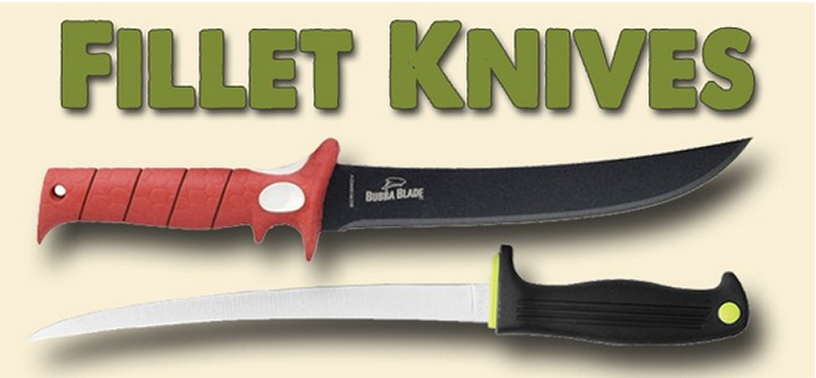 Review of 9 Most Selling Fillet Knives
Bubba Blade Stiffie (9-Inch)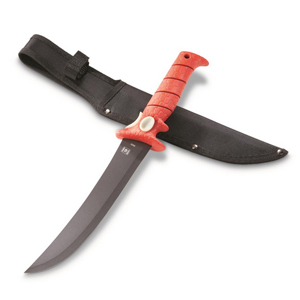 Bubba Blade Stiffie (9-Inch) fiillet knife comes with a hard sheath. It's very Super sharp & easy to clean. It is reliable & one of the best butcher knives ever.

The Bubba BladeTM Stiffie Fillet Knife is a genuine multi-purpose workhorse for precision cutting thanks to its strong, full-tang backbone and thicker, 2mm blade.
This knife is excellent for both cleaning fish and slicing meat since it has less flex and hence better control. Additionally, its beveled edge enables cuts that are finer and thinner. The 9-inch nonstick blade makes clean, simple cuts into meat or seafood.
Precision cutting is made easy with the Bubba 9-inch Stiff Fillet Knife's 2mm-wide blade. Beveled edges enable thinner, more precise cutting.
Key Features
9" high-carbon stainless steel blade
Overall length: 15"
Blade length: 9"
Blade thickness: 2mm
Knife type: Fixed
Titanium blade coating
Thermoplastic polymer handle
Full-tang design
15"l. overall
Pros
Very good grip
Amazing edge retention is and is easy to sharpen
It was comfortable to hold and easy to strike back into razor sharpness.
Right For Larger Fish
It have nice handle mediocre steel
Well constructed & sits nicely in your hand
Cons
Color can faded after some time
Rapala Fish 'N Fillet Superflex Knife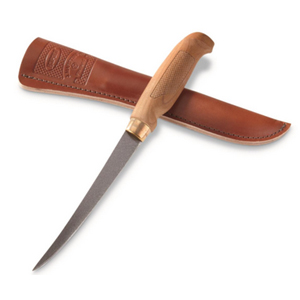 Rapala Fish 'N Fillet Superflex Knife is perfectly flexible and dangerously sharp. It holds a sharp edge for several fish, and it's easy to sharpen when needed. Great blade control. If you keep it in the house, you will use it in the kitchen because it is ideal for veggie prep because of the very thin blade.

Blade is very sharp with a nice sturdy handle. Very good to filet fish & even skin a Deer. Very sharp and flexible. Non-stick blades work very well. Very nice and comfortable handle.
Key Features
Blade length: 10.16cm
Total knife length: 19cm
Case material: Leather
Knife weight: 113.4g
Blade material: Stainless steel
Handle material: Birch
Birch handle
Checkering for grip
Pros
Flexible blade & nice handle
The blade is sharp, thin, and flexible- exactly
PTFE non-stick coating makes filleting even easier
The PTFE non-stick coating on the blade does indeed help this knife remove the fillet from the skin more smoothly.
knife is great for most all fish
It is super sharp and awesome for a regular fillet knife
Cons
Little control issue with the Superflex blade.
Bubba Blades 7" Tapered Flex Fillet(Otd)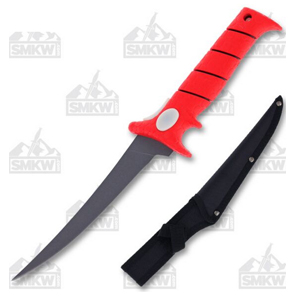 Bubba 7 inch Tapered Flex Fillet Knife comes with its razor-sharp blade, anyone can fillet a fish. Its smooth, clean-cut is ideal for Flounder or Lake Trout and a necessity for all your fishing trips. Non slip grip.

This knife is a workhorse, will not slip out of your hand when wet, and is worth every penny. deal for detailed precision cutting, a super thin 8Cr13MoV blade allows for effortless maneuvering to easily remove meat without loss, making it the ideal fishing knife.
Key Features
Blade length: 7"
Total knife length: 13.00"
Handle material: Rubber
Knife weight: 113.4g
Blade material: High Carbon Stainless Steel
Blade Style: Fillet
Brand: Bubba Blade
Pros
Well made and sharp
Knife handle is the best on the market
Thin blade & easy to sharpen
Non-slip trigger grip with safety guards
Its smooth, clean-cut is ideal for Flounder or Lake Trout
Cons
Don't take for salt water fishing
Rapala Falcon Fillet Knife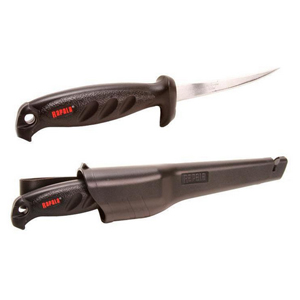 Rapala Falcon Fillet Knife blade is perfect for cleaning smaller fish like bluegill or crappie. For bigger fish i'd recommend a bigger knife. But if you're looking for a small knife for panfish this is it. Gets and holds an edge very well.

Great quality, stays sharp longer and easy to sharpen when it does go dull. Additionally, it includes a multi-purpose sheath with a built-in sharpener that enables "in-the-field" sharpening and protects the blade and user during storage.
Key Features
Blade length: 4""
Total knife length: 1 x 1 x 1 inches
Blade material: Stainless Steel
Blade Style: Fillet
Brand: Rapala
Handle Material : Stainless Steel
Pros
Super sharp knife
Easy to get sharp with the attached sharpener
The handle is nice and comfy
Great little fillet knife for smaller fish
Black sure-grip handle.
High impact plastic sheath with built-in ceramic sharpener
Cons
Hard plastic sheath.
G Pucci Spoon Fillet Knife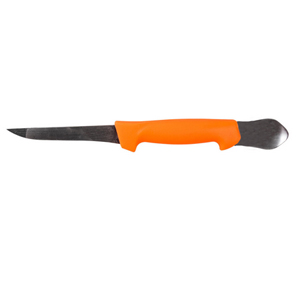 The spoon is fantastic for blood line removal and prevents broken nails, making it the best knife ever for the price.

You require this kind of knife if you fish for trout, salmon, or steelhead. You wouldn't leave the house without it, and at $10, it's an obvious choice. The G Pucci Spoon Fillet Knife has a comfortable grip handle, a stainless steel blade, and a strong sheath.
Key Features
Blade length: 5"
Blade material: Stainless Steel
Blade Style: Fillet
Brand: Rapala
Handle Material : Stainless Steel
Use: Fishing
Pros
Soft Touch Thermoplastic Handle
Easy-Clean Snap Sheath
Handground Stainless Steel Blade
Integral Spoon
Cons
NA
Rapala ProGuide Deluxe Electric Fillet Knife Set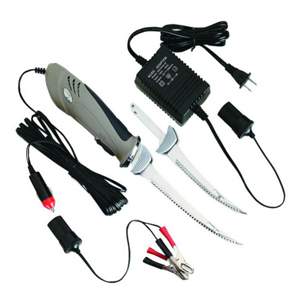 Rapala ProGuide Deluxe Electric Fillet Knife Set precisely what we wanted to use to fillet our fish. It can be connected to a battery, outlet, or DC. is quite sharp and has a long cord.

It can plug in at the dock and effectively clean my fish thanks to the 18" cord. I can use the knife inside the boat thanks to the 12v plug. Two blade sizes are included, and the cable is extremely lengthy.
Key Features
Total knife length: 1 x 1 x 1 inches
Blade material: Stainless Steel
Blade Style: Fillet
Brand: Rapala
Handle Material : Stainless Steel
Includes plastic cutting board and 12V DC lighter plug and long 110V AC power cord.
Pros
Works great for cleaning game
Plenty sharp and enough power to do 4 or 5 pound catfish all day.
Cuts fast and clean every time, no wasted meat at all.
Cord is long enough to reach from truck cigarette lighter plug to tailgate
It makes fileting fish nice and easy.
Cons
It's hard to get it back in the case it's stored in.
Bass Pro Shops Grip Master Fillet Knife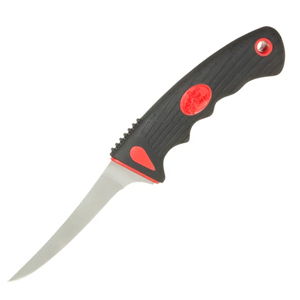 Bass Pro Shops Grip Master Fillet Knife With 420 stainless steel construction in the handle for durability. For truly difficult operations, the serrated part of the razor-sharp blade (except on models with a 4" blade) is ideal.

Outstanding cutting comfort and control are provided with a rubber handle that is ergonomic. The Grip Master Fillet Knife comes with a strong, molded hard plastic sheath that is equipped with belt clips and vents for ventilation.
Key Features
Blade length: 4"
Blade material: Stainless Steel
Blade Shape: Clip Point
Brand: Bass
Handle Material : Stainless Steel
Use: Fishing
Pros
Super Sharp & Durable
Outstanding cutting comfort and control
Good for crappie and smaller pan fish.
Good for Cleaning a fish
Affordable & good to hold
Cons
NA
Buck Knives 220 Silver Creek Folding Fillet Fishing Knife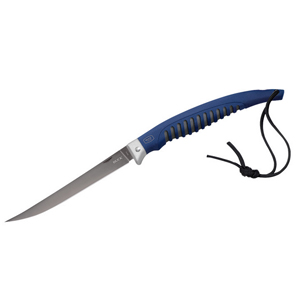 Buck Knives 220 Silver Creek Folding Fillet Fishing Knife is good for the price you cannot beat this knife, as it performs just as well as the top knives in this category. The blade is 6 1/2 inches long and very sharp. The handle has a grip that allows you to keep using this knife without slippage. You won't be losing your grip on this knife anytime soon. It folds for easy storage or if you want to keep it with you for hunting trips.
Key Features
Product Dimensions: 8.7 x 2.4 x 1.5 inches
Weight: 1.6 Ounces
Blade Size:6 1/2 Inches
Blade Material: 420J2 Stainless Steel with Titanium Coating
Handle Type: Glass Reinforced Polypropylen with TPE Rubber Handles
Blade Shape: Fillet
Pros
Excellent Grip
Very Sharp
Well Designed & good quality
Good for kitchen & field use
Stainless Steel safety grip
Convenient size
Cons
Seems very tight when open
Mister Twister Electric Fisherman Fillet Knife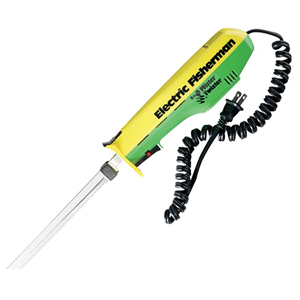 Mister Twister Electric Fisherman Fillet Knife is good option to become a fish-filleting expert. The quick and handy blade release and exceptionally sharp blade make quick, simple filleting a breeze. has a safety lock and a lightweight, cozy handle for improved control.

A powerful motor has a longer lifespan. Additional protection is provided by high impact motor housing. Additionally, the power cord can be expanded to keep it out of the way. To cut precise fillets, the split stainless steel blade oscillates at just the appropriate pace. It works well for other carving tasks as well. 110V AC. a 7" blade.
Key Features
Blade length: 7"
Blade material: Stainless Steel
Item Dimensions: 8 x 3 x 12 inches
Brand: Mister Twister
Handle Material : Stainless Steel
Use: Fishing
Knife Weight: 1.5 Pound
Pros
Sharp & long lasing blade
Good for cleaning crappie
Great replacement blades
Comfortable and safe to use
works fine for lighter load
Cons
A dozen redfish turned this knife into a pile of junk.
Blades are hard to sharpen
Fillet Knife Buying Guide: Things To Know Before Buying
How Do Decide To Buy The Best Fillet Knife
A good fillet knife gives you fine work opportunities. You can fillet different types of food items like fish, meat, vegetables, fruits etc. but this type of filleting knife is difficult work.
Thinking about this event we make a good side on fillet knives. So, Most of the customers find online base information; they want to fulfill their dream with reality. For choosing a good knife they use the online tool, it is the best nowadays.
They can easily get more information from it. And it is the latest idea about all types of people we think about carefully.
By the way we make up such a type of side which gives one total data about how to choose a good knife. Is it not good for you? We feel that cordially and apprise softly to you.
Good brand : Trusted brand is most important to collect fillet knives. We inform you of some of them, For the bear & son fillet knife, Normark Rapala fillet knives, Buck Silver Creek fillet knives, Schrade fillet Knives, Kershaw fillet knives, Shakespeare fillet knives etc.
Price: actually you get different types of price knives in the market. But your budget and choosing a knife is most important. So, first fix your amount and after that you make the decision to buy.
Buying system depends on your country's buying and selling department. Other family things you buy every day are like this, not difficult. For this purpose, communication is the best.
Recovery guarantee necessary and the company ensures you any demerger and fault found out and gets recovery service. Work system, must follow the cover page of knife, booklet, and using information guideline paper where you get the work way system.
They want to get a long time using knife truly, more time buying anything is painful so, finding a high quality knife how fine it is!
Good handle, strong blade, attractive handle, long time sharpener, are the choice of most buyers.
Before buying your knife you take care the company of the knife offered you any sharpener. Why is the sharpener the most important? Whenever this question asks your mind. Also you find more information about it, if you can choose a good knife, you will get it.
Features Of A Good Fillet Knife:
Do you want to buy a good fillet knife within your budget? If your answer is yes, then take decision based on the following attributes-
Blades are the most important feature that you should consider. Today, stainless steel has become industry standard and a choice to the blade makers and customers. But it is not enough. Check manufacturer's name, brand name and consumer review as well.
If you want to fillet a variety of fish without much of an issue, you must have different sizes of blades since different sizes of fish require different sizes of blade. But if you have to pick one knife, take it as large as possible.
Handle is another factor to be considered. It gives grip and comfort. There are three types of handle and they are- wood, plastic and rubber. Previously, only wooden handles were available in the market. I personally prefer plastic and rubber than wooden ones. Because these ones get rotten if they are in touch with water for a long time. Also wooden handles become slippery very soon and may cause serious injury.
Flexibility is a factor which is very important but has no standard to be measured. It depends on usage and blade size of the knife. The smaller blade it is, I think the more flexibility it has.
While choosing a good fillet knife, electrical or manual is another big factor. Well, electric filleting knives are versatile and simply superb while working on larger fish. Moreover, it will give you more control and you will have less time. But the difficulty is, it is very complex to use and you have to learn it from someone else specifically, without wasting flesh. On the other hand, manual knives conserve the meat most. Since you have more control over the knife, it has less chance to waste meat. Only thing you need is mastering the right technique. Fillets done by manual knives are also better than the electric ones. In addition, you have to carry the battery in case of electric filleting knife. and most important is- manual knives are less expensive than the electric ones.
Benefits Of Using A Good Fillet Knife
Benefits of using a good fillet knife are to be able to separate the bones from the fish. The better knife you are using, the better result you will get. I mean it will become easier to remove the bones from the fish and more flesh you will get from the fish.
People often become confused and can't understand which knife can be called a good filleting knife. Below are a few benefits of a good fillet knife –
Thin enough to move between the bones and the meat.
Ensure minimum meat loss while removing the bones.
Filleting becomes easier than before.
You can clean freshly caught fish.
A good fillet knife will serve you years after years.
Final Thoughts
However, choosing a best fillet knife is a difficult task. But for those who do not know the above points before they purchase a fillet knife. Hope, after reading this article buying a good filleting knife has become a piece of cake to you.
A fillet knife can make a fulfilling work and offer a perfect work. All the round moving you collect a quality knife which gives you more working opportunities, saving time, smoothly long time work etc. and finding new information on this site we gathered an updated solution recently. You will be happy to get those from time to time. Good luck, take care of you.
Read more about : Coolina Knives - What You Need To Know Before Buying