Ozark Trail 4 Person Dome Tent - Reviews & Buying Guide
Choose Ozark Trail 4 Person Dome Tent For Your Next Trip
The Ozark Trail 4 Person dome tent is the best tent for a family camping world. This Camping Dome Tent is also the perfect tent for all your outdoor needs.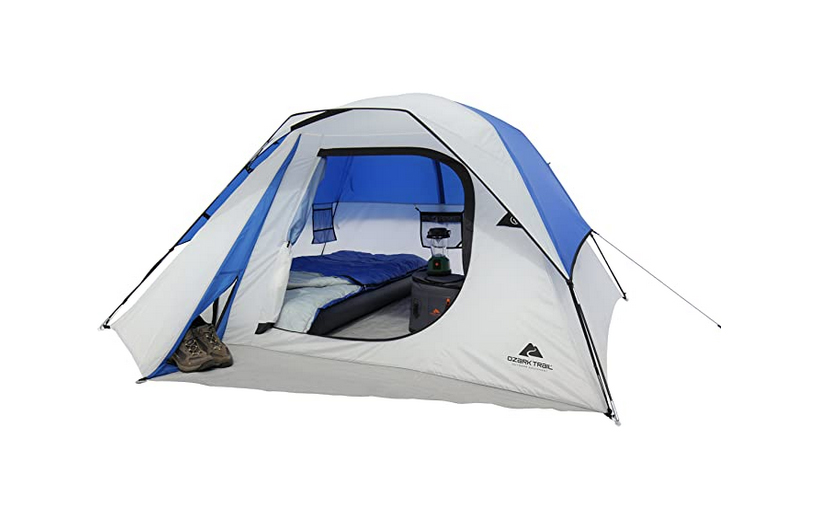 This 8' x 8.5' tent fits most camping locations. This tent has ample space to store your gear and other camping essentials. Apart from this, you will also get enough space in this tent to fit a queen-sized air mattress with extra room easily.
The mud mat over the tent entrance helps keep your tent clear of dirt and other debris. This tent also includes other useful built-in features, such as foot lockers on the side of the door.
The tent comes with the Rainfly , which helps to protect you from inclement weather. Your Rainfly also doubles as a protective awning over the sizable D-shaped door and can be mounted to the rear, allowing you to create airflow the way you want.
You can keep it closed on cool nights to give off that cozy body heat, or open it on hot summer nights to feel like a cool breeze is blowing.
The Rainfly can also be detached so you will see the stunning complete mesh roof design & can watch the expansive night sky while you sleep peacefully.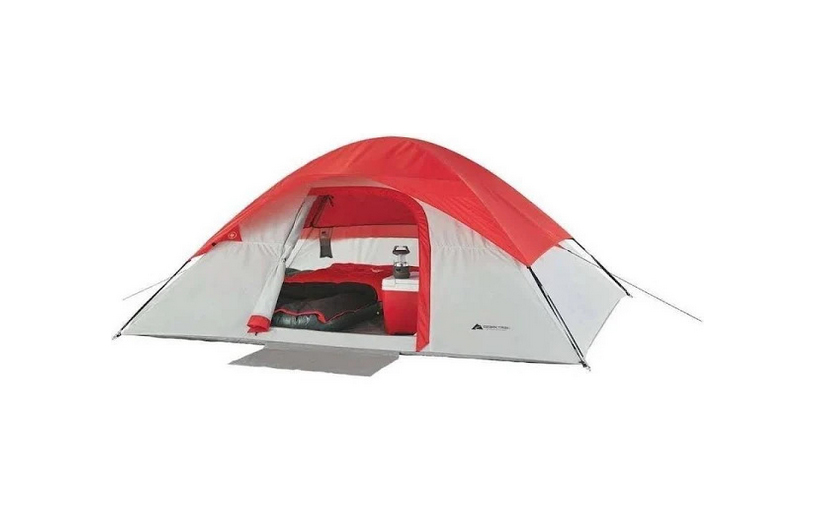 Specifications:
8' x 8.5' Footprint
48 inches. center height
It fits one queen-air mattress
Roll-Back Rainfly with Built-in Awning
Large storage locker with zippered access in/out
Media Pockets, 2-Section Storage Pockets, and a Gear Loft
E-port to power the devices
Item Assembly (LxWxH): 8' x 8.5'x 48"
Packaged Item (LxWxH): 22.75" x 4.6" x 8.6"
Sleeping Capacity: 4
Tent Body Fabric: Poly Taffeta 185T 600mm
Floor Fabric: Polyethylene
Rainfly Fabric: Poly Taffeta 185T 600mm
Mesh Fabric: Poly Mesh 68D
Carry Bag Fabric: Poly Oxford 210D
Frame Material: Fiberglass Poles
Number of Seasons: 3
Number of Rooms: 1
Number of Doors: 2 on tent; 3 on fly
Number of Windows: 2
Number of E-Ports: 1
Number of Pockets: 1
Number of Gear Lofts: 1
Number of Poles: 3
Number of Guy Ropes: 4
Number of Steel Stakes: 17
Average Set-Up Time for 2 people: 15 minutes
Dimensions:
Floor Dimensions: 8 ft. x 8 ft.
Floor Area: 64 sq. ft.
Duffle measures 24 in. x 7.75 in. x 7.75 in.
Carry Weight: 11.9 lbs.
Advantages Of Ozark Trail 4 Person Dome Tent
The unique feature of the tent is that it has an extra large vestibule area for storing gear, shoes, and other supplies.
It includes two doors, one in the front and one in the rear, with zipper closures and two windows that let air circulate through it.
This tent has two doors and two windows, an excellent air medium.
The tent also includes an e-port to keep gadgets charged. Plus, there's a gear staging and storage pocket to keep small items handy.
The Ozark Trail Four Person Dome Tent with Vestibule and Full Coverage Fly Ozark Trail Four-Person Dome Tent comes with a carry bag for convenient transport and storage.
This tent becomes easy to assemble with the pin and ring frame attachment system.
The gabled roof in this tent provides excellent star-gazing opportunities and extra ventilation.
Disadvantages Of Ozark Trail 4 Person Dome Tent
Size issue. Not nearly as large as stated. The picture shows a tent with a queen air mattress. Assembled tent measures 78X96.
Not 100% waterproof!
Conclusion
So, if you are looking for an affordable dome tent, the Ozark trail 4-person dome tent is the right option to buy. A suitable choice for first-time campers, backpackers, family outings, group events, picnics, and music.
Find the top dome tents products of 2022 with our buying guides.